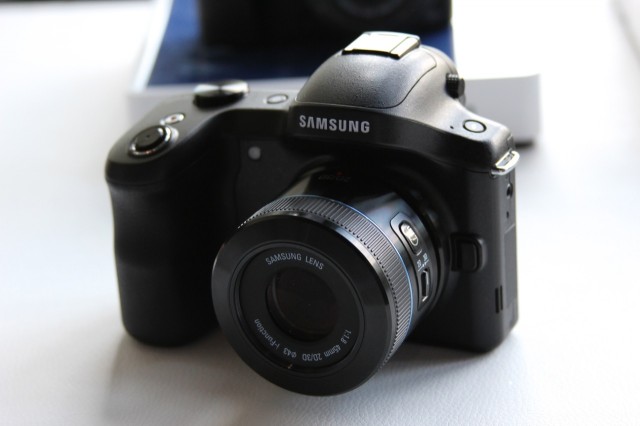 At its event in London earlier today, Samsung took the time to highlight a few of its upcoming phones and tablets. The most interesting of the Windows tablets, the
Ativ
Tab Q, wasn't available after the event for journalists to try out. However, we were able to spend some brief hands-on time with both the Samsung Galaxy NX and the Galaxy S 4 Zoom, two of the company's latest attempts to marry its Android devices to more robust cameras than the ones that typically come with Smartphones.
The Galaxy NX: Android cameras go semi-pro
The Galaxy NX is something of a successor to last year's Galaxy Camera, but it can also be seen as an Android-equipped extension of Samsung's existing NX camera series. The Galaxy NX looks like nothing so much as a Samsung NX 20 with most of the physical controls moved to the 4.8-inch, 720p IPS touchscreen (that's right, no AMOLED here). It also shares its 20.3 megapixel APS-C sensor and
mirrorless
-ness with the NX 20, though its shutter speed is slightly slower (a max of 1/6000th of a second, down from 1/8000th of a second in the Galaxy NX).
The camera's body is closer to DSLR-sized than point-and-shoot sized, but a grippy rubberized handle and loops for straps should make it easy enough to hold on to. Compared to the body of my Canon T3i, it's a bit slimmer but in the same ballpark, and if you've held a DSLR before you should be familiar with the Galaxy NX's size and heft. As we mentioned, all of the camera's manual settings can be accessed by navigating through the UI on the camera's touchscreen. While this sort of navigation could potentially be more friendly to novices, photographers used to adjusting settings on-the-fly with physical camera controls may find having to make ISO, shutter speed, and other adjustments to be more difficult without them.
One of the biggest draws of the NX compared to the Galaxy Camera is the interchangeable lens system. You won't get the high-quality, professional lenses available for DSLRs from Canon, Nikon, and their ilk, but the
13 lenses
Samsung offers for the NX cameras appear to cover most of the basics for fledgeling or even semi-professional photographers. Lenses purchased for other cameras in the NX lineup are all fully compatible with the Galaxy NX, so if you've already bought into Samsung's lens system all of your lenses will still work. Unfortunately, we can't say much about picture quality at this point, but reviews of the NX 20 have generally had fair-to-good things to say about the images that it produces.
As for the Android side of the equation, the Galaxy NX runs Android 4.2.2 on a 1.6GHz quad-core SoC with 2GB of RAM and 16GB of storage (expandable via
microSD
by up to 64GB). The UI used for running Android apps isn't the TouchWiz UI found on Samsung's Android phones, though the two do share a lot of the same DNA, and while the camera we used wouldn't connect to the Internet we were able to launch the Chrome, Dropbox, and Settings apps and poked around with no trouble. Most Android apps and widgets should run fine on the NX, making it possible to customize your camera's screen to your liking.
Samsung representatives couldn't (or wouldn't) give us any specific details about the particular processor that the camera is using, but given the clock speed, core count, and
form factor
our best guess would be that there's an Exynos 4 Quad in there, the same chip in the international Galaxy S III and tablets like the Galaxy Note 8.0 and 10.1 (if this is the case, that would of course be subject to change when and if the camera comes to the US).
Pricing and availability information for the Galaxy NX are not available at this time, but color us intrigued. An LTE-equipped, relatively capable camera that can send photos directly to Google Drive or Dropbox (or even directly into a CMS) from out in the field sounds great to me, as someone who has traveled to almost half a dozen expos and conferences so far this year. The interchangeable lenses take the concept (as introduced by last year's
Galaxy Camera
) from "interesting idea" to "maybe I would buy this."
The Galaxy S 4 Zoom: Who is this for?
Smartphones are already eating into the market for standalone point-and-shoot cameras, but the Galaxy S 4 Zoom (one of three Galaxy S 4-branded phones mentioned today) takes it to extremes. Like the Galaxy NX, the S 4 Zoom marries a camera lens to Android, but this one is a full-fledged phone that just happens to have a 16MP camera and a 10x optical zoom lens.
The phone's form factor is compromised a bit to accommodate this lens, which protrudes from the back of the phone even when not in use. The bottom of the phone bulges slightly to give your hand a place to grip the phone more firmly when using it as a camera, though it lacks any sort of
grippy
, rubberized material. With the exception of the lens itself, most of the phone is made of Samsung's trademark plastic.
A few other camera-centric features have also been added to the phone: it has a larger built-in flash and
shutter button
on the top, a front-facing microphone for use when recording videos, and a hole for mounting on a tripod. Like most of Samsung's other phones, the Zoom's 8GB of internal storage can be augmented by up to 64GB
microSD
cards.
The phone's software is the same basic TouchWiz Android skin we've seen on the S 4, but the camera UI is substantially similar to what we saw on the Galaxy NX. A Samsung representative told us that the look and feel between the software on the Zoom and
the higher
-end camera would be pretty consistent, though the features available on each might differ.
It's hard to comment on the quality of the camera itself without the ability to walk around and, you know, take pictures with it, but at first blush it appears to be hampered by the same problems we're used to seeing in an Android cameras — sort of noisy pictures accompanied by odd exposure and white balance decisions while in auto mode (where someone using a camera like this is likely to spend most of their time). Full manual settings are available for slightly more experienced photographers—ISO, white balance, shutter speed, and other settings are all available—but zoom and not sharpness appears to be the main draw here.
As a phone, the S 4 Zoom is like the Galaxy S 4 in name only. Samsung's TouchWiz UI remains intact, but the phone trades its 5-inch 1080p display and quad-core Snapdragon 600 for a 4.3-inch 960×540 AMOLED screen and a 1.5GHz Exynos 4 Dual, along with 1.5GB of RAM. Though Android 4.2.2 ran pretty smoothly on the demo unit we played with, that's a substantial step down in horsepower from even the Galaxy S III. Note that these specifications may be subject to change before the phone comes to US shores—Samsung's devices often traded their Exynos chips for Snapdragons when they cross the ocean.
As with most in-
betweener
devices, the S 4 Zoom is OK at a few things but isn't really the best in any class. It seems best suited to those who don't need the fastest or best
smartphone
and still carry compact point-and-shoot cameras with them everywhere they go, but the majority of this audience will probably already be satisfied with the standard zoom-less cameras in most midrange and high-end
smartphones
. Otherwise, photography enthusiasts are going to want a more robust camera and
smartphone
enthusiasts are going to want a better phone.
For more information on both the Galaxy NX and Galaxy S 4 Zoom, including more detailed information about specifications, click the preceding links to find the press releases for each device.