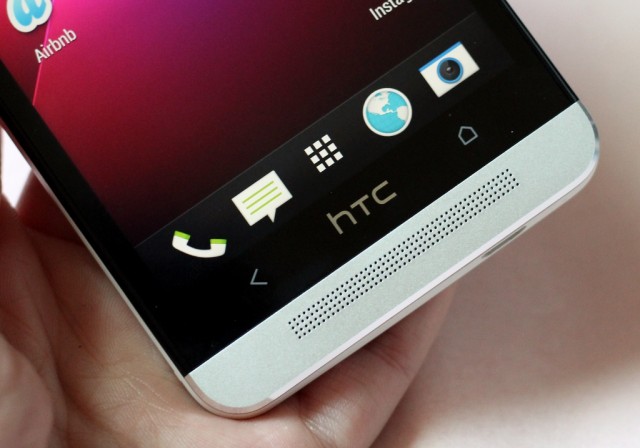 It's been a hard year for HTC. The Taiwan-based phone manufacturer had a great beginning in the Android world, but it's been
struggling
to keep up appearances and convince the public to buy its handsets. Some
analysts
believe that the HTC brand is in trouble and that the company's struggles stem partly from the public not really recognizing it as the maker of
the
Android handset to buy. Not anymore, at least.
Now that Samsung is in the top spot, HTC has a lot of ground to make up. The company's CEO, Peter Chou, famously
said
that he will step down if the One doesn't succeed, but the phone hasn't exactly had the best start: it has suffered manufacturing
snafus
caused by a component shortage, which came about partly because HTC is no longer considered a "tier-one customer" in manufacturing land. But in spite of branding and supply chain problems, the HTC One is still a very solid Android handset.
Body, build, and display
SPECS AT A GLANCE: HTC ONE
SCREEN
1920×1080 4.7-inch (468

ppi

) Super LCD 3 with RGB Matrix
OS
Android 4.1.2 with Sense 5
CPU
Quad-core 1.7GHz Qualcomm Snapdragon 600
RAM
2GB
GPU
Qualcomm Adreno 320
STORAGE
16 or 32 GB NAND flash
NETWORKING
802.11a/b/g/n/

ac

, Bluetooth 4.0, NFC, DLNA,

Wi

-Fi Direct, wireless HDMI
PORTS
Micro-USB, headphones
CAMERA
4MP rear camera with "UltraPixel" image sensor, 2.1MP front camera
SIZE
5.41" × 2.69" × 0.37" (137.4 × 68.2 × 9.3 mm)
WEIGHT
5.0 oz. (143 g)
BATTERY
2300

mAh

STARTING PRICE
$99 at Sprint, $199.99 at AT&T, $99.99at T-Mobile
SENSOR
Accelerometer, gyroscope, digital compass, proximity sensor, ambient light sensor
OTHER PERKS
Infrared
At
5.41 × 2.69 × 0.37 inches, the HTC One is only a bit bigger than the Samsung Galaxy S 4. Its smooth aluminum backside somewhat resembles the finish on Apple's MacBook Pro, and it features white accents around the edges, with a few stripes continuing on the back and ending abruptly at the camera lens. It's an interesting design, one that HTC says is made through "zero-gap" construction, a term that refers to the phone being carved out of a piece of aluminum (you'll find an image of the chassis design in our gallery below).
The One feels sturdy and well-built—more so than any of the plastic body phones I've used before. It's also a testament to HTC's marketing strategy: rather than dial it back to cut on costs, HTC has gone full-force by showing that its design capabilities mirror that of top-tier handset makers like Apple. What we have here is a fashionable and sturdy device; its aluminum chassis and matte white trim makes it look unlike any other Android handset on the market right now.
Inside, the HTC One features a 1.7GHz Qualcomm Snapdragon 600 processor, 2GB of RAM, and 32 or 64 gigabytes of storage. Unfortunately, there is no
microSD
expansion slot, nor is there a removable backing. The micro-SIM slot sits on the left-hand side of the phone, with the volume rocker and power button on the right and top sides of the device, respectively. There is also a micro-USB slot on the bottom, though it's placed on the right side rather than in the middle as it is on most other handsets. One benefit to this minor design decision is that you can actually use the phone to type horizontally while it's charging without bumping the cord.
The One has only two hardware buttons on the front of the handset: a back button and a Home button. HTC has eliminated the menu button, which other Android handsets use to bring up a variety of settings or options within applications. HTC hopes that this will be less confusing for consumers, but I can see this being more confusing for seasoned Android users who are used to navigating the interface with three buttons. Heck, I had a difficult time with the adjustment—I kept accidentally hitting the HTC logo to get to the home screen. Also, apps that require the menu key use the lower part of the screen for a virtual menu button, which completely negates the purpose of having hardware buttons in the first place. It feels like HTC is attempting to do good by starting a two-button trend, but because Google hasn't standardized it across Android handsets, it's mostly a minor annoyance.
The One features dual speakers on both the top and bottom of the front side, and they produce a very powerful sound, due in part to the handset's inclusion of Beats technology and an
onboard
amplifier. It's nice to see handset speakers actually on the front side of the device and not tucked away on the back; the device doesn't have to be laid face-down to stream NPR or to listen to a Spotify playlist. While Beats audio has typically been criticized for being nothing more than a marketing gimmick, I give HTC credit for incorporating a stereo-like sound in a device this size.
At 4.7-inches and 468 pixels per inch (ppi), the HTC One's Super LCD 3 1080p display is vibrant, bright, and easy to read. Its IPS display incorporates SoLux technology, which is said to help improve viewing angles, picture quality, and outdoor visibility. Our side-by-side comparison of the One and the Galaxy S 4 displaying the same photo showed softer colors on the One, but the S 4 produced a more pure black because of the nature of the AMOLED display.
Overall,

videos

were a pleasure to watch on the One and the viewing angles made it easy for a group of friends to crowd around and peruse through Instagram together. The One's screen is also easier to see in the sun

at

full brightness than the Galaxy S 4, but it's still difficult to use it in direct sunlight.
Performance and battery life
As mentioned, the HTC One uses the same Qualcomm Snapdragon 600
SoC
that's featured in the Galaxy S 4 and Optimus G Pro, though the Galaxy S 4's clock speed is bumped up to 1.9
Ghz
.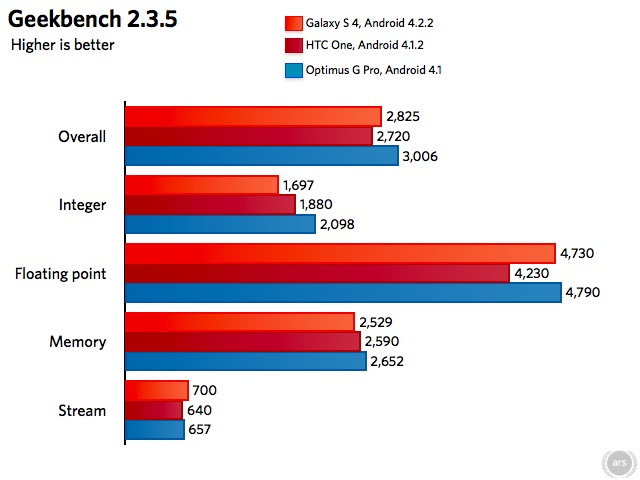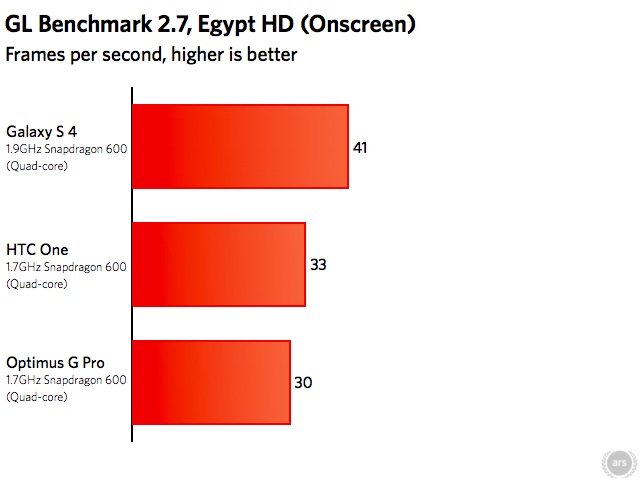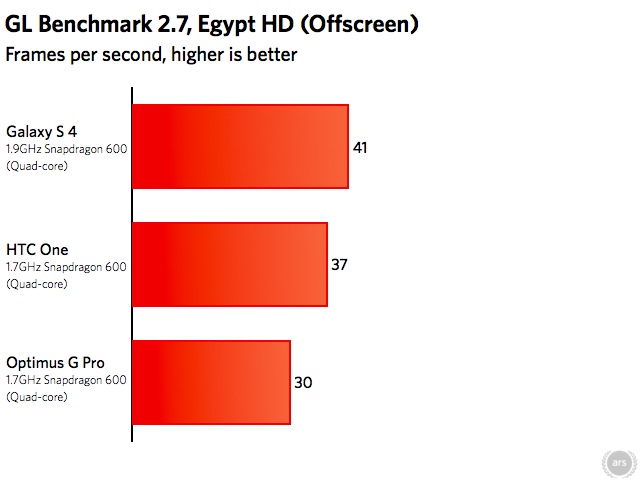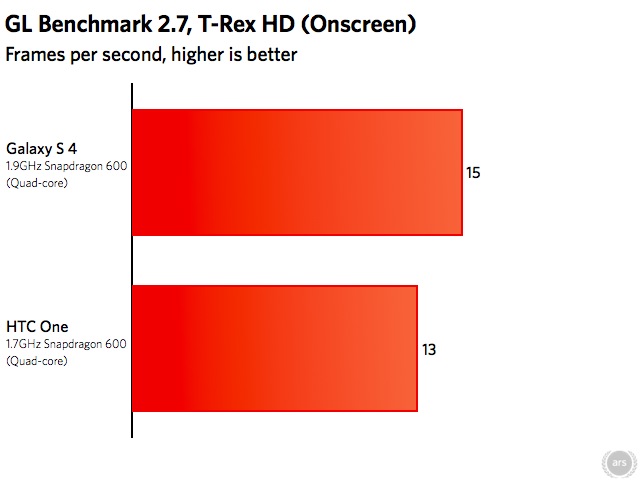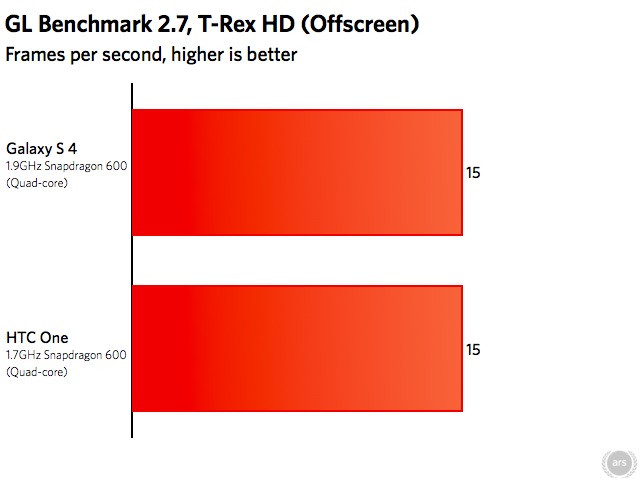 Overall, the One feels speedy and responsive—even more so than the newly released Galaxy S 4, despite its minor speed bump. But the One lagged behind both the Galaxy S 4 and the Optimus G Pro in its benchmark tests. Interestingly, the One often edged out the Optimus in GLBenchmark, despite the two handsets sharing the same screen resolution and similar chips. Unfortunately, we didn't have LG's handset to do T-Rex HD benchmarks, which is GL Benchmark 2.7's updated test that has been re-calibrated to test more modern hardware. The Galaxy S 4 and HTC One performed similarly in these tests, with the One
falling
a bit behind in certain tests because of its slightly slower SoC.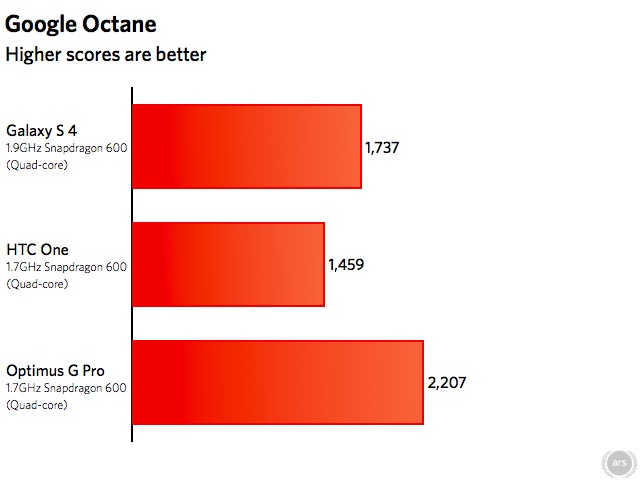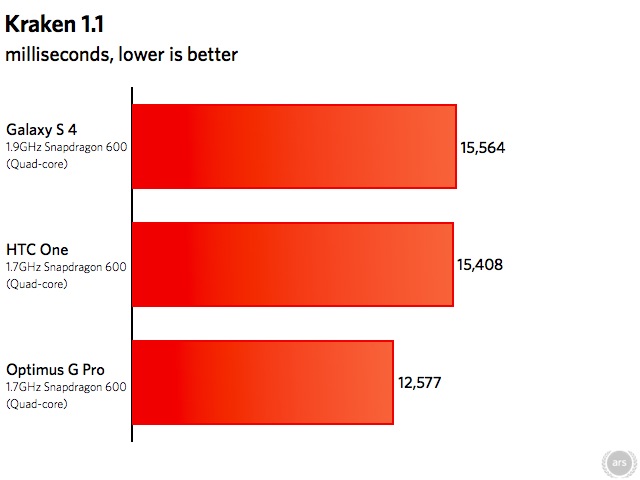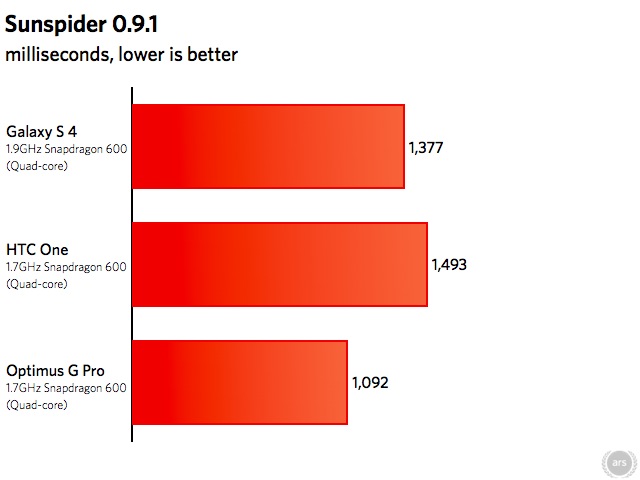 The HTC One features a 2300 mAh battery pack; it looks like HTC has learned from its previous battery-capacity missteps with the Droid DNA, which
contained
a 2020 mAh battery pack to fuel its relatively massive 1080p display. The One obviously lasts much longer than its older sibling, and HTC has included some software tweaks that help preserve battery life when the phone isn't being used as a portable media center. You can switch on a power saving mode from the Notifications shade, which conserves CPU usage, reduces the screen brightness, turns off vibration feedback, and cuts off the data connection when the screen is off. This mode helped keep the phone running for more than two days without a charge, as it effectively puts the phone to sleep when it's not in use.
With the conservative power settings off, however, the HTC One quickly burned through battery life, even as I was using the phone to snap photos and post to Instagram. I left the phone in standby overnight without this option selected and with about 50 percent left in battery life, and the phone needed a major recharge the next morning. I also streamed an hour and fifteen minutes of Sherlock at full brightness and full volume, and while it was a much more pleasant experience with this phone than with other phones I've used, the One used up about 30 percent of its battery life
in
that time.
Software, UI, and Apps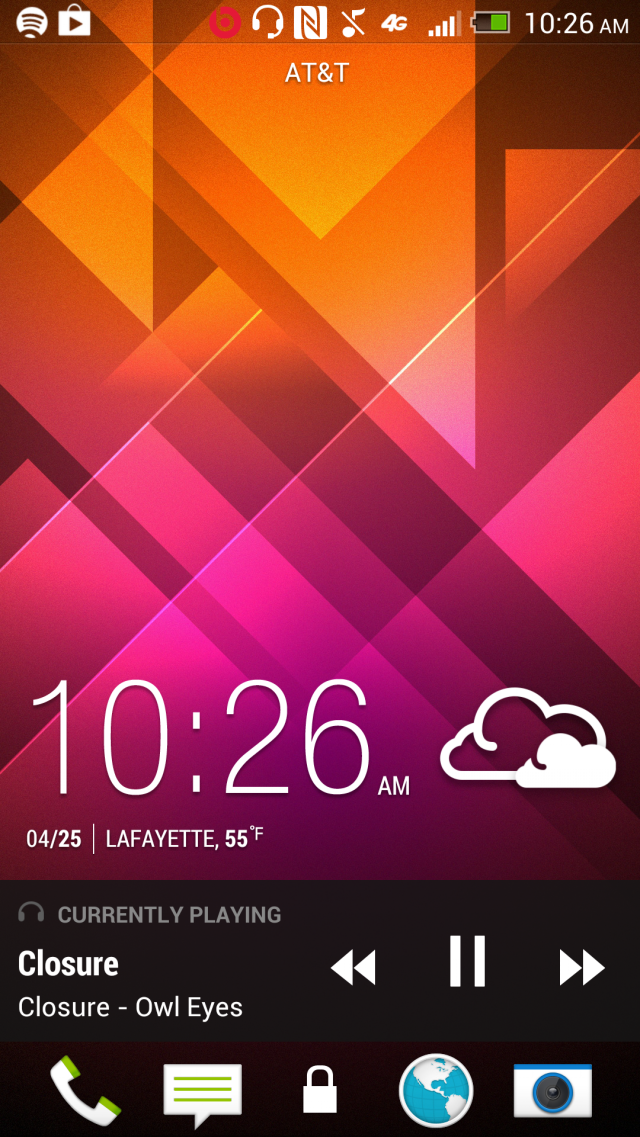 The HTC One runs Android 4.1.2 Jelly Bean with its proprietary Sense 5 as the overlay. Unlike the Galaxy S 4, it doesn't
sport
the most recent iteration of Jelly Bean, so you'll be missing out on software like the Quick Settings menu in the Notifications shade. At least you'll still have Google Now, which is nicely integrated with the One and can be accessed by holding down the Home button.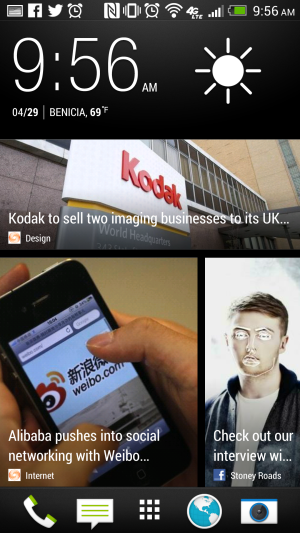 Sense makes a bit of a mess of Android with its
BlinkFeed
, which takes over a home screen with unevenly sized tiles devoted to all of the different services you can hook up through Sense UI; this includes social networks like Facebook, Twitter, and LinkedIn as well as news from services like
Flipboard
. You can also set up BlinkFeed to pull in headlines from the Associated Press, ESPN, Moviefone, and about 1,400 other content partners.
Unfortunately, this feature can't be turned off completely.
Update:
Thanks to Ars reader utopia for pointing out that you
can turn off
BlinkFeed without rooting the One.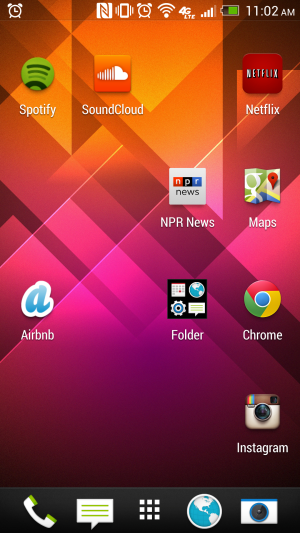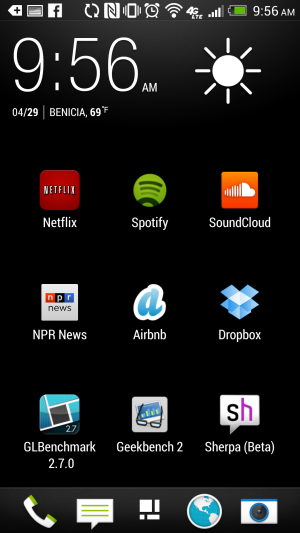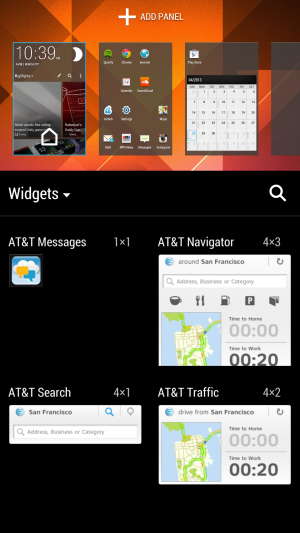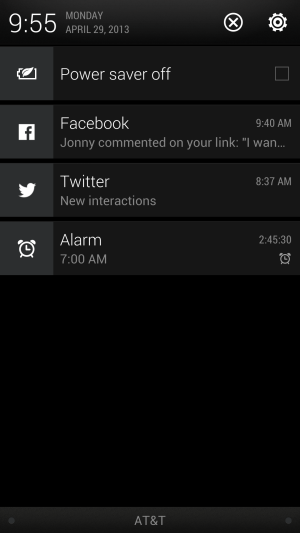 Even if you're used to a different Android experience—like Samsung's TouchWiz or LG's Optimus UI—you may find there's a learning curve for HTC's new Sense 5. It's a far cry from the Sense interfaces of
HTC handsets past
, at least in terms of user experience, and it's a different feel
from
the typical Android experience. And while it's a good idea in theory, BlinkFeed doesn't seem like a good fit for a device of this size—it feels like it would have been more appropriate for a tablet screen.
However, it becomes obvious what HTC is trying to do as you delve further into other applications, like its Gallery app, which aggregates photos from services like Facebook and Google+.
BlinkFeed
wants to be
news
-centric—a portable news ticker that you can glance at to check up on your friends and the world around you. In a way, it's a lot like Facebook Home's "social ticker," so it makes sense that the two companies teamed up to deliver the HTC First. This is a hard push
on
HTC's end for an overtly social theme, and the company hopes to sell you on this feature.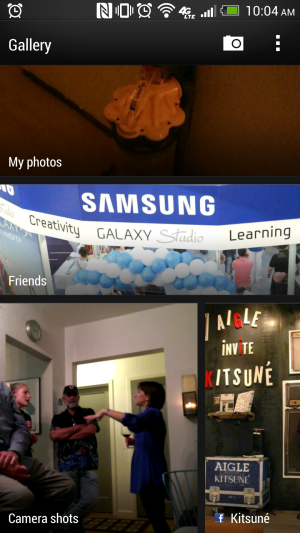 Because it includes an infrared receiver, the HTC One also comes with a remote control application (both the Optimus G Pro and Galaxy S 4 offer their own application). Though it requires an active cable subscription or over-the-air access to work properly, you can set it up to at least turn on the television. I discovered that the application isn't very useful otherwise (I'm a
Roku
user). To its credit, the One was compatible with a surprising amount of television brands, including obscure ones like my TCL LCD TV.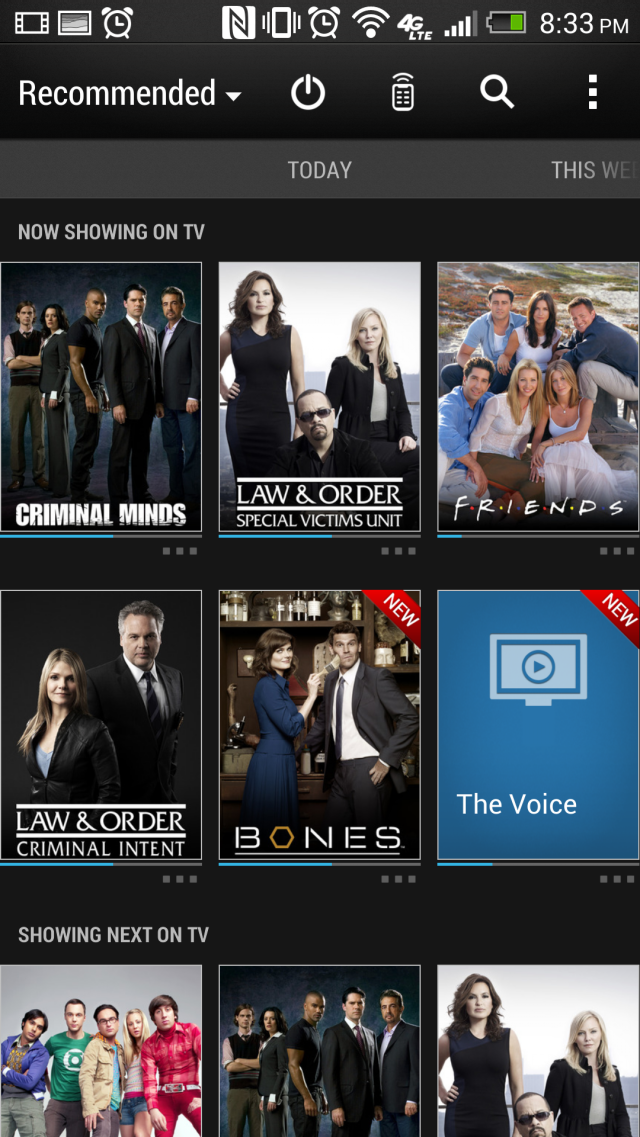 The handset comes loaded with a few other applications like a Notes app, which can record audio, take down
hand
-drawn notes, and sync with an existing Evernote account. You'll also get HTC's Music application (in addition to Android's native Google Music and a separate FM Radio application) and HTC Watch, the company's video downloads application.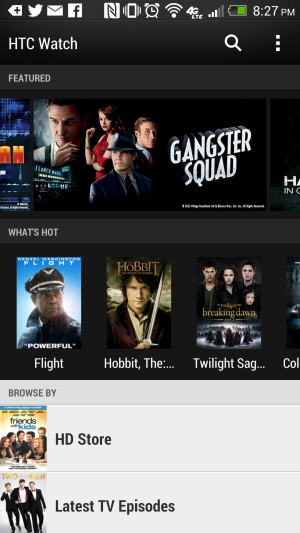 Camera
The One's four-megapixel sensor appears outdated at first glance because of its specifications, but HTC hopes its Ultrapixel technology will show its worth. The UltraPixel camera has a larger lens and a larger sensor—actually physically larger—than most other
smartphone
cameras, so it can capture more light. The One actually took better photos than some of its higher megapixel competitors—from afar, anyway.
The Camera application features three different camera modes: a Scene mode, with pre-fixed modes like Normal Portrait, Landscape, Backlight, Text, and Macro; an HDR mode; and a night mode. There are also options for self-
timing
, face detection, and auto smile capture. The app gives you the ability to do specific image adjustments, including exposure, contrast, and saturation.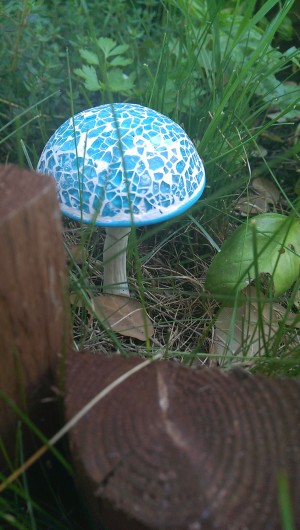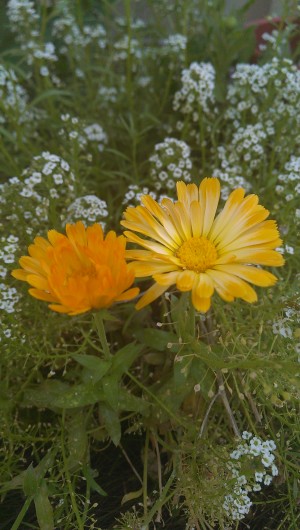 These photos were taken outside in my garden with the Macro mode. The depth of field is impressive, especially considering that I've had trouble getting this kind of focus with other Android handsets, like both of Samsung's latest Galaxy phones. But there were several instances in which the One's camera lens had a tough time focusing on the subject at hand in various shooting modes, and when it couldn't focus on a picture it would vibrate the entire device. (It also does
this in video mode
, which is annoying when it ends up getting recorded onto the video.) Despite the way the photos look from afar, however, the megapixels do come into play when it comes down to the detail in each photo.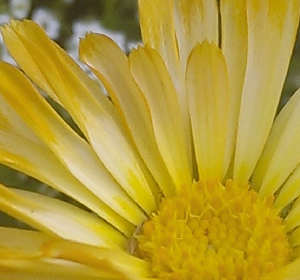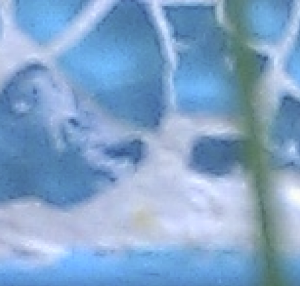 The HTC One's camera has a Night mode, but while its shots were much more capable than the Galaxy S 4's, it paled in comparison to the Nokia Lumia 920's dark photo-taking abilities. It also took a while before the subject (in this case, my vacuum cleaner) was in focus.
The HTC One's panorama feature provides you with a virtual "level" that shows you how straight the photo is and how the phone should be held to capture a good panorama.

The camera application includes a few other perks like the ability to immediately upload pictures to an existing Flickr account after each photo is taken, and you can crop photos into varying sizes and do continuous shooting. There's also a camera mode called
Zoe
, which allows you to take up to three seconds of video and 20 still shots simultaneously; it comes in handy in situations where group shots are happening and many cameras are shooting at once—it helps to guarantee that the right photo
willhappen
.
The One is capable of taking 1080p video, and in a side-by-side comparison with the Galaxy S 4, we noticed that the One actually did a better job of stabilizing the image in video mode. When holding both phones to record video at a party, the One's display image on-screen performed better at image stabilization. As both phones were shaking around, the Galaxy S 4 looked like it needed a second to catch up with the image, while the One looked stable in every shake.
Conclusion
I'm inclined to say that the Galaxy S 4 is still the Android phone to beat, if only because HTC's Sense 5 is too grating for my normal TouchWiz ways. Although Samsung's TouchWiz UI has its own follies, it feels like it's still an Android experience, though it's not Google's. The One's UI doesn't feel so much like Android, although I instinctively know how to swipe around to get to what I need within Sense 5.
The HTC One also attracted more attention than the Galaxy S 4 did when I used it in the real world. It was the aluminum chassis that caught
onlookers' eyes
at first, and the general consensus was that the HTC One felt better in the hand. This is really a matter of personal preference, and while I don't like that HTC has made some changes to Android that I'm not too keen on—the lack of a Menu button and the BlinkFeed takeover, for instance—it's no different from what any other OEM is doing with its Android handsets that aren't a part of the Nexus program.
There's also a bit to be said about the construction of the HTC One. As Brian Klug at Anandtech pointed out in his review of the device, HTC has created a design story for the One that gives it some Apple appeal. Rather than try its hand at branding through a flagship name—like Samsung has done with its Galaxy line of phones—HTC will instead attempt to gun for the design savvy with its "zero-gap" construction. It must be working, because even at-a-
glancers
seem to like what they see in the One's aluminum construction and design.
Good
The One's 4MP camera is more capable than some other 13MP

smartphone

cameras on the market
Fast, speedy, and responsive UI
Very social- and news-centric in all aspects
Sense 5 integrates with many third-party services
Bright, vibrant display and excellent stereo sound make this a great portable entertainment device
Bad
Stuck on Android 4.1.2 which means...
...It's missing some features of Android 4.2, like Quick Settings, which HTC won't make up in its own UI
It's also missing a Menu button, which isn't supported by some Android applications
Ugly
HTC's information-oriented BlinkFeed is not a native part of the Android experience and can't be removed