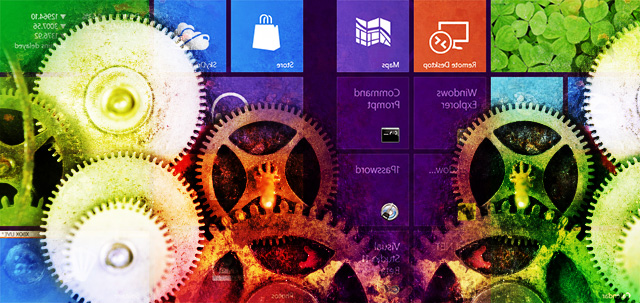 With its new tablet-friendly user interface, Windows 8 is going to be a revolution for both desktop users and tablet users alike. These substantial user interface changes are paired with extensive changes beneath the operating system's surface. For both developers and users, Windows 8 will be the biggest change the Windows platform has ever undergone.
In the wake of the first demonstrations of Windows 8 in mid-2011, some unfortunate word choices left many developers concerned that Windows 8 would force them to use Web technologies—HTML and JavaScript—if they wanted to write tablet-style applications using the new Windows user interface. We thought something altogether more exciting was in the cards: we felt Windows 8 would be a platform as ambitious in its scale as the (abandoned) Windows "Longhorn" project once was. At its BUILD conference in September 2011, Microsoft unveiled Windows 8 for real and talked about application development on the new operating system. The company proclaimed it to be an entirely new, entirely different way of developing applications. Our predictions were apparently confirmed and then some.
Closer inspection reveals a more complex picture. Windows 8 is a major release, and it is very different from the Windows before it. And yet it's strangely familiar: when you peek under the covers of the new user interface and look at how it all works, it's not quite the revolution that Microsoft is claiming it to be.
But WinRT is a little surprising. As new as it is, its roots are old and its lineage can be traced back to the early days of Windows. So let me take you on a journey, a trip through Windows' dim and distant past, unearthing relics of ancient history to discover the true meaning of WinRT and understand why it's more evolutionary than it appears.
A brief history of Windows: Win16
To really understand where Microsoft is going with its operating system, we first have to understand where it has been: how Windows works today and how things got to be that way.
Operating systems exist to provide services to applications. The range of services an operating system is expected to provide has grown as computing power and user demands have grown. At the most basic level, operating systems provide file handling (creation, deletion, reading and writing of files) and simple I/O (reading from the keyboard, writing to the screen, and in modern operating systems, talking to the network).
With a graphical operating system came graphical applications.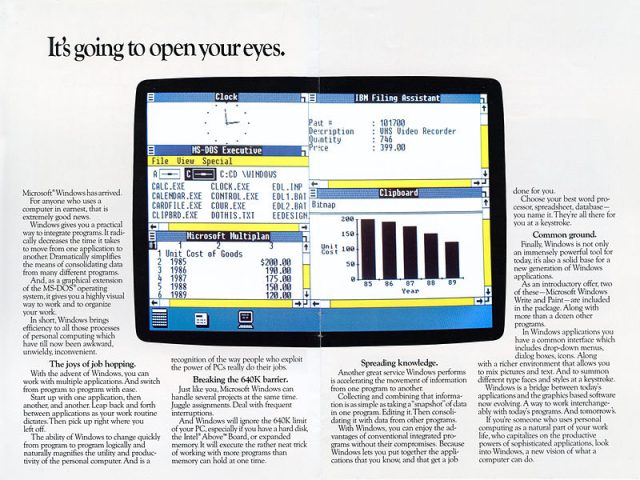 The component revolution
Perhaps the single most important feature of OLE was that it was extensible. The word processor wouldn't have to know anything specific about the spreadsheet program; it wouldn't have to know what the program was called, or who wrote it. It wouldn't have to understand the spreadsheet program's file format. It just had to be able to link and embed OLE objects using the OLE libraries. It could perform standard actions on OLE objects—such as "open this object up for editing." The OLE infrastructure would even make sure the right program got started up, and that when that program saved its data, it got put back in the right place.
COM
Cross-language COMpatibility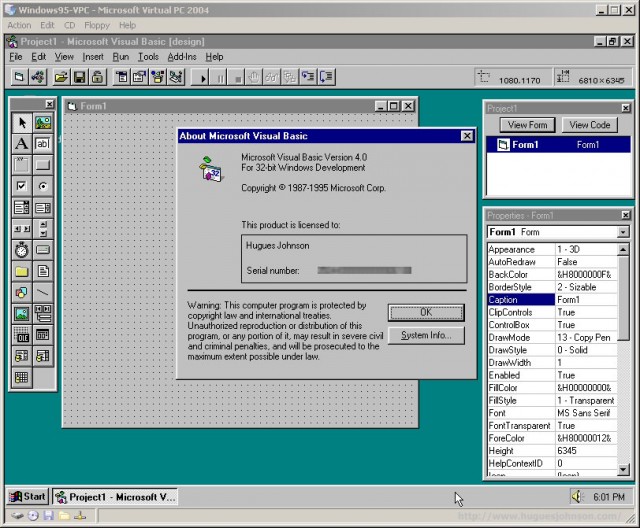 A proliferation of APIs
Concurrent with this development of OLE and COM, Windows itself was being developed and expanded, sprouting new APIs with every new release. 16-bit Windows started out with GDI, USER, file handling, and not a huge amount more. In late 1991, an update for Windows 3.0, the Multimedia Extensions, was released, providing a basic API for audio input and output and control of CD drives.
Multimedia Extensions were rolled into Windows 3.1, but just as Windows 3.0 had an extension for sound, so Windows 3.1 gained one for video, with Video for Windows in late 1992. Again, Windows 95 would have this as a built-in component.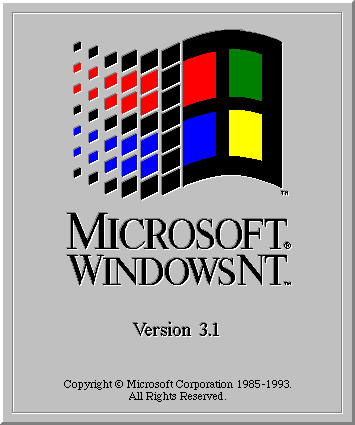 Overwhelming COMplexity
But there was a problem with all that complexity. The only mainstream programming language that supported all of COM's capabilities was C++ (or C, but much less conveniently). Visual Basic, though widely used in enterprise development, could only use a subset of COM's capabilities. This wasn't all bad, as it meant that it handled a lot of complexity automatically, but was nonetheless limiting. The problem with C++ is that it is itself a complex language, and C++ COM programs tend to be prone to the same kind of bugs and security flaws that have plagued C and C++ for decades. And unlike Visual Basic, C++ did virtually nothing automatically.
Meanwhile, Sun was busy inventing and developing Java.
Caffeinated

competition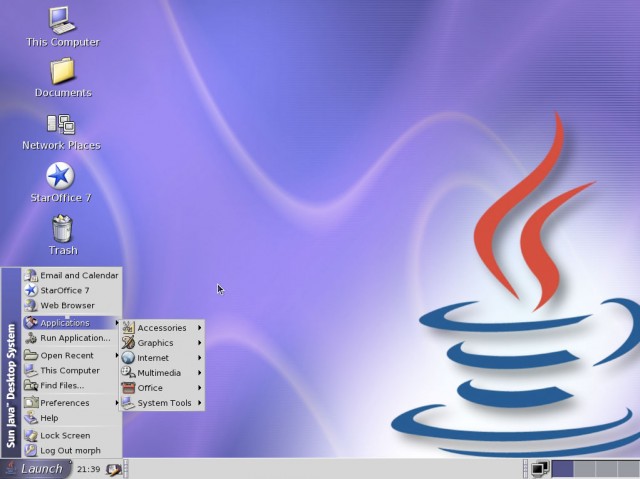 This virtual machine, and the verification it performed, meant that Java was immune to the kinds of problems that have plagued C and C++ since their inception. Buffer overflows and heap corruption were rendered harmless or impossible.
As Java matured, it gained a lot of the features found in COM+, including DCOM's ability for a program on one computer to reference objects on another computer over a network, as well as MTS's transaction capabilities.
With Java, Sun was offering enterprise developers something that Microsoft couldn't: the powerful capabilities of COM, plus a language as safe and easy to use as Visual Basic without the problems of C++.
Enter .NET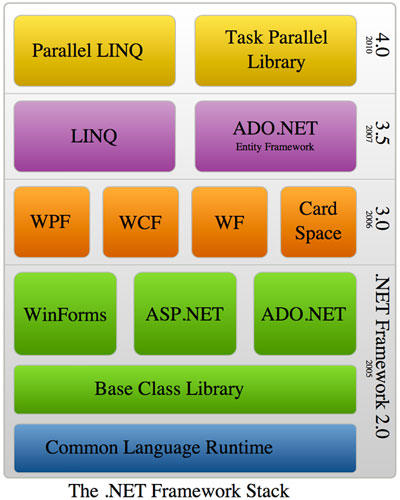 Though .NET was designed to be multi-language, not every language was created entirely equal. For example, some programming languages, including C#, C++, and Java, are case-sensitive—that is, they treat a function named "Add" as different from one named "add." Others, such as Visual Basic, are case insensitive, treating them as equivalent. Accordingly, case-sensitive languages can make functions and classes whose names differ only by case; case-insensitive ones cannot. The C# language, developed in conjunction with .NET, can do most things that .NET permits, but not quite everything. To fully exploit the full power of .NET requires direct use of IL (equivalent to the age-old practice of assembly language programming); the next best thing is to use C++.
An averted revolution
The situation for developers of shrink-wrap applications was rather different, however. Most of these developers had an existing legacy of traditional C or C++ code written to use Win32. Porting these applications to use .NET would have been a major undertaking, and as a result, most didn't.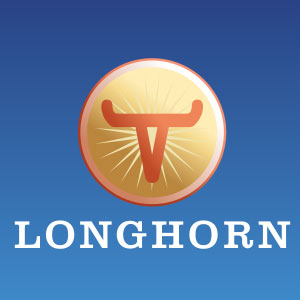 But the broader goals of Longhorn were abandoned. Windows itself remained an operating system written in, and designed for, native code. Windows Vista added new C and COM APIs, and these APIs had no managed code .NET counterparts. The only part of desktop Windows Vista to depend on .NET was Media Center, but even this didn't use the new Longhorn-originated WPF or WCF features.
Even with these greatly scaled back goals, Windows Vista struggled on the market, particularly as device manufacturers and software developers did a poor job of readying themselves for the new video driver system and tighter security.
Windows 7 built on Windows Vista, polishing a number of rough edges, and by the time it was released the hardware and software developers had mostly caught up with the changes that Windows Vista introduced. Windows 7's launch was much smoother than Windows Vista's, and the operating system has been nothing short of a phenomenal success.
Yet still the API remained a mishmash of C and COM, and still Media Center was the only part of desktop Windows to use .NET code. The managed dream was dead.
The necessity of change
Windows 7 has been highly successful. But Microsoft still has a problem. The changes that the company wanted to make for Longhorn were not whimsical or unnecessary. They were motivated by a desire to fix genuine problems with the Windows platform.
Demands for both greater security and productivity have also made runtime-based environments—like Java, .NET, or scripting languages like Python, JavaScript or Ruby—much more important.
Longhorn also made nice, safe, productive .NET a first-class citizen, giving developers the improved security and productivity they desire.
Split developer communities
The Longhorn vision was not without its problems, however. The chief problem was it depends on .NET. While .NET has seen substantial uptake among a certain kind of developer, it has left others out in the cold. The early adopters of .NET were developers working on internal line-of-business (LOB) applications, and even as the platform has grown and evolved, that hasn't really changed. Developers of large desktop applications—think Office, or Photoshop, or even games—have stuck with native code and the Win32 API.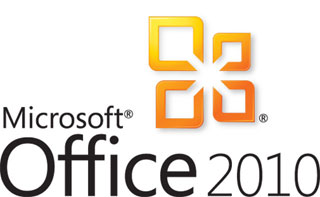 This includes developers within Microsoft. Office, for example, remains a Win32 application. The Windows division has all but refused to use .NET and managed code, but other divisions have used it for all manner of new development. The Server and Tools division—which owns Developer Division ("DevDiv"), that developed .NET in the first place—uses .NET extensively. It powers server technologies such as ASP.NET and parts of Exchange, management technologies like PowerShell, and development tools like Visual Studio and Expression Blend. The Entertainment and Devices division has similarly used .NET extensively, including Windows Media Center, the Zune client application, all third-party Windows Phone 7 development, and some Xbox 360 development.
The indomitable iPad
This schism might have remained forever, were it not for the tablet revolution.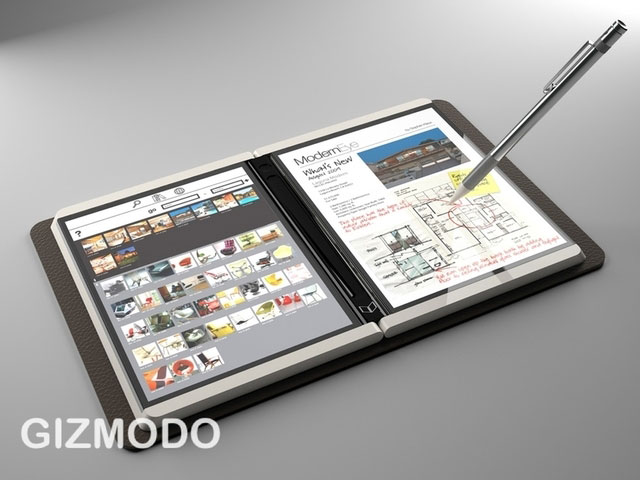 Microsoft is no stranger to the tablet market. The company's numerous tablet efforts have fared poorly in the market, however, chiefly because the operating system itself, and the applications running on it, don't have a user interface that's suitable for tablet computers.
It took a long time for Microsoft to realize that effective touch applications had to be built with touch in mind from the outset, but realize it has, and Windows 8's new Metro UI and Metro-style applications will give Windows the tablet interface it has always needed, but always lacked in the past.
Once the decision had been made to give Windows 8 a new UI, with new applications, the Windows division had the impetus—or perhaps the need—to tackle the long-standing Windows problems. Microsoft is a latecomer when it comes to new, modern, finger-friendly tablets, and to hit the ground running, the company needs Metro-style tablet applications, and it needs them to be high quality, with consistent user interfaces that show off the platform as its best.
This meant creating an API and environment that makes developing these applications easy, and that makes exploiting modern hardware easy.
That API is WinRT, the Windows Runtime.
WinRT

introduced

The customary way of introducing WinRT is to produce a block diagram of the operating system that shows how major components of Windows 8, including Win32, WinRT, languages like C# and C++, the kernel, and more, all fit together. Microsoft's own diagram looks like: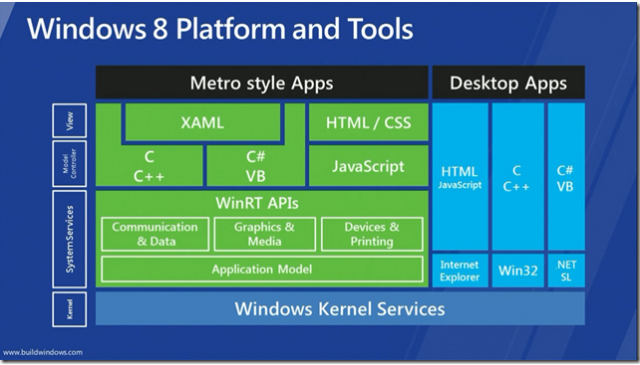 Diagrams are useful things, and showing all the different interdependencies in the Windows 8 software stack is indeed a useful thing to do, so I'll have a stab at producing my own later on, but Microsoft's diagram is enough to get started with for a high-level overview of WinRT.
COM: back in fashion
COM is weaker in many regards—less descriptive metadata, no built-in notion of inheritance, unsafe programming languages, and in most ways far more awkward to use than .NET. But COM does have an important advantage: it has no virtual machine, being native code from the ground up. COM is also the technology used by many of the big, old Windows programs, including the all-important Office.
Within Microsoft, there are also certain political considerations at play. Internal opinion about .NET is divided. Many teams use the technology to good effect and regard it as important. The Windows division ("WinDiv"), however, has a different view. The many developmental difficulties that occurred during the (essentially abandoned) development of Windows Longhorn were attributed, at least in part, to the use of .NET code. The team also believes that native C++ development is what most developers want. This has tended to lead to an avoidance of the use of .NET even when it's an appropriate or desirable technology.
When the Windows team created WinRT, indications are that these non-technical concerns weighed at least as heavily as any technical reasons. As a result of this distaste for .NET, combined with COM's native nature and extensive use in major pre-existing Windows applications, the decision was made: WinRT is built on COM.
But it's COM with a twist.
Not your grandmother's COM
This WinMD metadata is central to WinRT's multi-language support. It's the common element that every language, whether native C++, C# (or some other .NET language), or JavaScript understands. The WinRT infrastructure uses the metadata to generate what Microsoft is calling "projections" into each language.
Projecting
C++, .NET, and JavaScript all have very different ideas of what it is to be "an object." JavaScript, for example, is very dynamic: objects can be extended to gain new functions at runtime, for example. C++ is very static; everything that an object can do gets baked in when the code is compiled. C# can perform some of the tricks that JavaScript does (though not as conveniently or simply as JavaScript does them), but for the most part it's close to C++. The projection system in WinRT is used to bridge these different takes on "objects" so that components can be made available to any language.
A COM for the 21st century
The new COM also tidies up important parts. Instead of trying to accommodate every language under the sun, it offers higher level support for common data structures, and uses the projection system to gloss over some of the differences between languages.
A new face for Win32
The runtime infrastructure used to provide WinRT is only half the story. The other half of the story is the WinRT software library; the collection of APIs used to actually build WinRT applications. Just as the runtime infrastructure is a new spin on an old technology, so too is the software library. But while Microsoft is happy to talk about how WinRT is built on the time-honored COM technology, you get the feeling that it doesn't want us to think of the library in quite the same way, hence the inaccurate diagram it bandies about to explain its APIs.
Microsoft's diagram places the WinRT APIs and application model directly above "Windows Kernel Services," as if WinRT's API was some alternative that was independent of Win32. C and C++ desktop applications leverage kernel services via Win32; Metro style apps access kernel facilities via WinRT.
It's a nice idea. It just isn't true.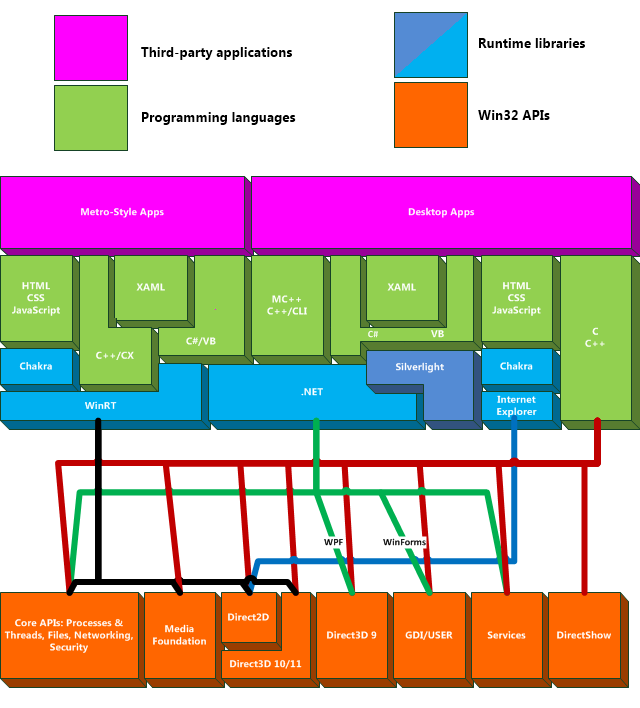 This is where there are some terminology differences. One could pretend that the diagram is accurate and hence decree that any API that Metro applications can use (whether using WinRT COM, traditional COM, or no COM at all) is a "WinRT API," but I think that this is not especially helpful, and such usage is not supported by most of the documentation. Rather, there is the Windows Runtime API, using the new kind of COM, and there's a load of Win32 APIs that are also permitted.
What's in the box?
These factors all influence the design of the WinRT API: in Windows 8, the first iteration of WinRT, it's not a general purpose API, and it's not supposed to be. Much of the API is unexceptional and will feel reasonably familiar to Windows and .NET developers, but a couple of parts deserve special attention: the features it has for GUIs and the general approach to both disk and network I/O.
Keeping the user interface fast and fluid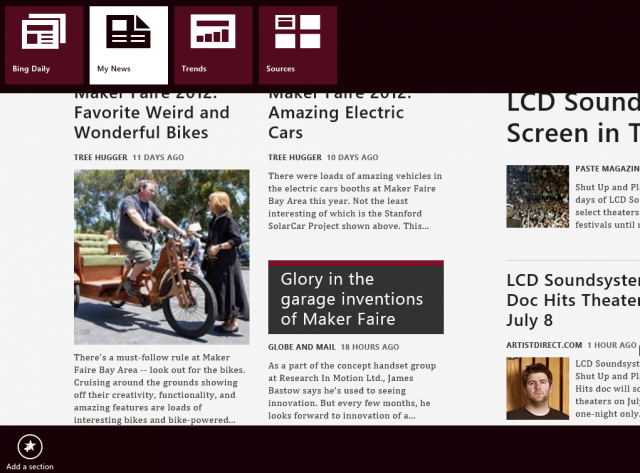 To avoid this problem, then, you have to make sure that the input thread never pauses. Unfortunately, while most developers know that they're not supposed to make their input thread block, they often do it anyway. It's just too easy to do. The traditional culprits are I/O—either doing something with the disk, or with the network. The thing about I/O is that it can be really slow. A network connection to an unavailable server can wait several seconds before failing, for example. Attempt this connection in your input thread, and you'll end up blocking input for several seconds, creating an application that's unresponsive and slow.
The reason that synchronous APIs are so often the default is that they're much easier to work with and think about. A lot of what programs have to do is sequential in nature. You can't read a file until you've first opened it, and you can't interpret the data until you've first read it from the file. Necessarily, when the user clicks a button to load a file, you have to open the file, then read the file, and then interpret the data. Synchronous APIs, where the thread stops what it's doing until the file is opened, and then stops again until the data has been read, make this sequential programming natural and easy.
Asynchronous APIs aren't so straightforward. The virtue of an asynchronous API is that the thread that started the I/O operation can do something else while it's waiting for the I/O to finish. The difficulty with an asynchronous API is figuring out just what to do once the I/O operation is done, and the data is available, ready to be used. The thread that started the I/O operation has moved on with its life and is now busy responding to the next bit of user input; as far as that thread is concerned, the fact that the user clicked a button to load a file has been dealt with.
The approaches that asynchronous APIs use to handle this vary. Windows has always had asynchronous APIs. The Windows jargon is "Overlapped I/O," because you can perform multiple I/O operations on a file simultaneously, such that the operations overlap with one another. The way in which it handled this particular issue was very primitive and low-level. The operating system would tell the application when each overlapped operation was complete, but it was entirely up to the application to work out which I/O operation is which, and what the next processing step is.
Not everything that can hold up the input thread is an I/O operation, of course. Sometimes computation itself is the slow part. So as well as a way of doing I/O asynchronously, there needs to be a way of doing computations asynchronously; of pawning them off onto a separate thread, so that the input thread can keep on trucking. Over the years, many ways of doing this have developed. The time-honored UNIX approach was to use a separate process for each separate computation. In Windows, the preference has been to create separate threads for these background tasks.
WinRT's

approach: asynchronous I/O...

On the one hand, it's easy to see why Microsoft has gone this all-asynchronous route. Though developers can subvert the system in various ways to make it act synchronously, there's a much greater chance that they'll do the Right Thing and use the asynchronous API asynchronously, and as a result, the input thread is much less likely to get tied up. The net result should be applications that are much better at staying responsive—the whole "fast and fluid" thing.
...
and

thread pools
Sandboxing

and the app model

The full mechanics of the sandbox mechanism are beyond the scope of this brief introduction to WinRT, and in principle, the sandbox system is an operating system feature that isn't specifically tied to WinRT. However, it does have a variety of implications for the WinRT API.

Even with contracts, there's no direct communication between applications. It's all orchestrated by system components that pass the necessary data between applications, either directly or via files on disk. Applications have to declare which contracts they support, if any, and the operating system performs the necessary filtering required. For example, if the current app is offering up a piece of text to share, only those apps that declare that they are able to receive shared text will be made available.

In this way, the contracts retain the strict isolation between applications and protect them from the free-for-all that traditional Windows IPC implies.

There is, however, a substantial downside to the contracts. As is this case with most of WinRT, contracts aren't usable in desktop applications. This means that, for example, a desktop e-mail client such as Outlook can't be used as a share target. Opening up these contracts to desktop applications would require a bit more plumbing on Microsoft's part, but would greatly enhance the experience of using a mix of WinRT and non-WinRT applications.
An evolutionary revolution
In a sense, WinRT is much closer to something like MFC and .NET than Microsoft's diagram and promotion lets on. MFC ("Microsoft Foundation Classes") is a library that the company has offered C++ developers since the early 1990s that provides a set of classes built on top of Win32 that makes Win32 somewhat less painful to use and more "object oriented." Fundamentally, WinRT, MFC, and .NET are all layers on top of Win32 (rather than replacements for Win32) that provide a "modern" development environment. The exact meaning of "modern" has changed over the years to accommodate different coding styles and practices, and .NET and MFC have some advantages that WinRT doesn't (for example, much of their source code is published, making it much easier to figure out what's going on behind the scenes and why things aren't working), but the goal of all three has been the same: to make it easier to write software for Windows.
Microsoft is taking a risk with WinRT, as developers may not follow it, but it's a calculated risk, and it's a low risk. The re-use and modernization of existing technology gives WinRT instant familiarity for developers, but also an easy path for Microsoft to extend the reach and capabilities (and ease the restrictions) should it need to. It's at once the embodiment of Windows' future and the embracing of Windows' past.