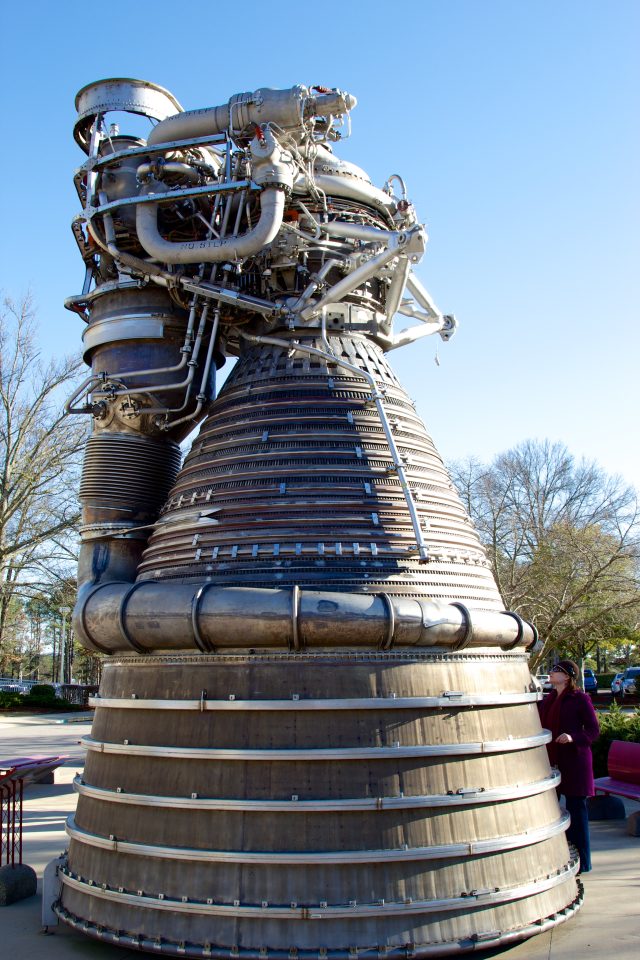 Enter our young rocket scientists
The decision to use a pair of solid rocket boosters for the Space Shuttle instead of liquid-fueled engines like the F-1 had been partly technical and partly political. Solid fuels are hugely energy dense and provide an excellent kick to get a spacecraft moving off of the ground; also, selecting solid fuel boosters allowed the government to send some available contracting dollars to companies involved with building intercontinental ballistic missiles, leveraging that expertise and providing those companies with additional work.
Nick Case and Erin Betts, two liquid engine systems engineers working for Williams, found a way. Although no launch vehicles that used F-1 engines are still around, actual F-1s do exist. Fifteen examples sit attached to the three Saturn V stacks on display at NASA facilities, including MSFC; dozens more are scattered around the country on display or in storage. Williams' team inspected the available engines and soon found their target: a flight-ready F-1 which had been swapped out from the launch vehicle destined for the to-be-canceled Apollo 19 mission and instead held in storage for decades. It was in excellent condition.
Case and Betts spearheaded the paperwork-intensive effort to requisition the F-1 from storage and get it into their workshop. They were aided by R.H. Coates, a more senior member of Williams' team and lead propulsion engineer for the SLS Advanced Development Office. Williams offered encouragement and assistance from the management side, but the team was otherwise given free rein on how to proceed. After some study, they came to Williams with a request that was pure engineer: "Why don't we just go ahead and take this thing apart and see what makes it work?"
Williams said yes. "It allowed some of our young engineers to get some hands-on experience with the hardware," he told me, "what we would term the 'dirty hands' approach to learning, just like you did when you took apart your bicycle when you were a kid, or your dad's lawnmower or his radio. One of the best ways to learn as an engineer, or in anything, is to take it apart, study it, ask questions."
And then, hopefully, build a better one.
The plans! The plans!
The team initially wanted to build an accurate computer model of every component in the engine so that its behavior could be modeled and simulated, but another goal soon began to take shape: maybe, just maybe, they could mount some of the engine components on a test stand and make the F-1 speak again after 40 years.
Why was NASA working with ancient engines instead of building a new F-1 or a full Saturn V? One urban legend holds that key "plans" or "blueprints" were disposed of long ago through carelessness or bureaucratic oversight. Nothing could be further from the truth; every scrap of documentation produced during Project Apollo, including the design documents for the Saturn V and the F-1 engines, remains on file. If re-creating the F-1 engine were simply a matter of cribbing from some 1960s blueprints, NASA would have already done so.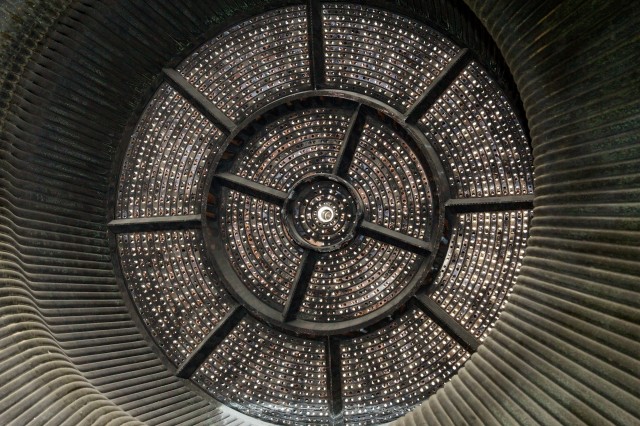 The baffle arrangement "was just a trial and error thing," explained Senior Propulsion Engineer R.H. Coates. "But we'd like to model that and say, well, what if you took one of those baffles out?" Because the baffles are mounted directly to the injector plate, they take up surface area that would otherwise be occupied by more injector holes spraying more fuel and oxidizer; therefore, they rob the engine of power. "So if you want to up the performance on this thing, we can evaluate that with modern analytical techniques and see what that does to your combustion stability."
But before any "hot-fire" testing could occur, the team had to take the very physically real F-1 engine and somehow model it. It's easy—well, relatively easy—to turn a set of CAD files into a real product. Turning a real product into a set of CAD files, though, requires a bit of ingenuity, especially when that product is a gigantic rocket engine.
Firing my laser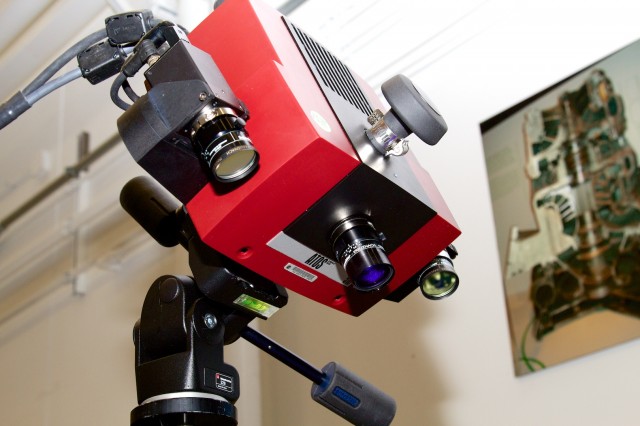 The exterior of the F-1 was meticulously photographed and then mapped with a structured light scanning rig, which uses a projector to paint a pattern of stripes onto the surface being scanned. Mounted on the side of the projector are two cameras which each record how the pattern falls on the surface being scanned. For every exposure, the projectors and camera capture sixteen different stripe patterns.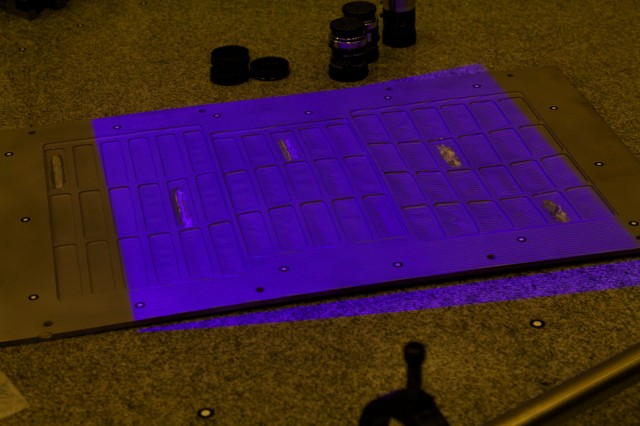 "We took just a regular digital camera and walked around the engine and took photographs," Black said. "The software took all those photographs and built a 3D coordinate for each of the targets, and what you get is a very sparse data set—it's basically the X-Y-Z value of the center of these points."

Taking the F-1 apart to get at its insides was always part of the plan, but as the team proceeded, it became obvious that actually cracking the thing open without breaking it was going to require specialized tooling—tooling that might have existed 40 years ago but which has long since been destroyed or lost.
The exterior scan was therefore used to develop the specialized tooling needed to fit the F-1's nuts, bolts, and fasteners. Some of the bolts were annoyingly unique—Betts noted that at least one high-torque bolt in the turbopump assembly required its own special torque adapter to remove.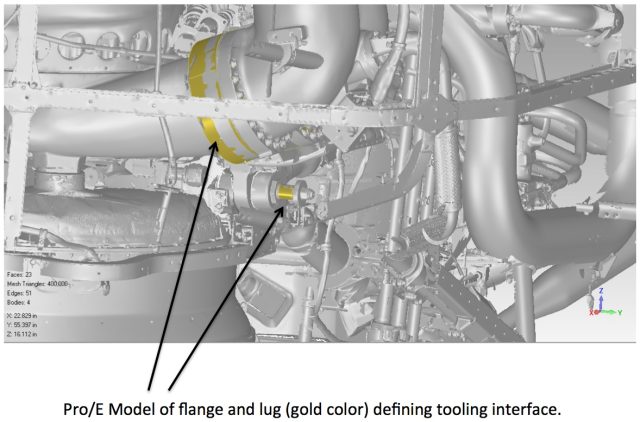 "And so what you get now is a true 3D definition, inside and out, of all the relationships—not just the part geometry, but the relationship between the parts. And we did this for all the parts that you see on the shelves here," Black added.
Touching the past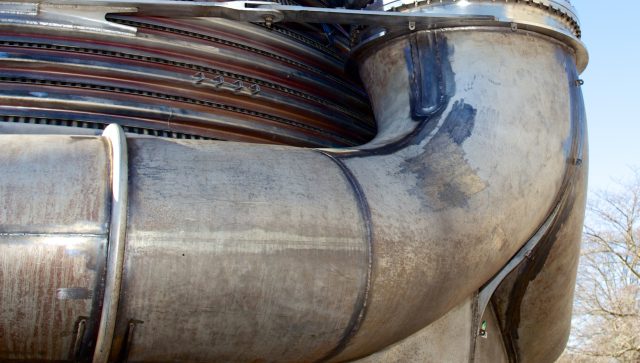 "Their ability to withstand imperfection, too," said Betts. "There were a few things on the engine that we disassembled, where today you may throw that part away because of the imperfections, but it goes to show that they fully understood what the big drivers were in their design. That's one thing we were trying to get knowledge on: what imperfections were OK to live with versus what imperfections are going to give us problems?"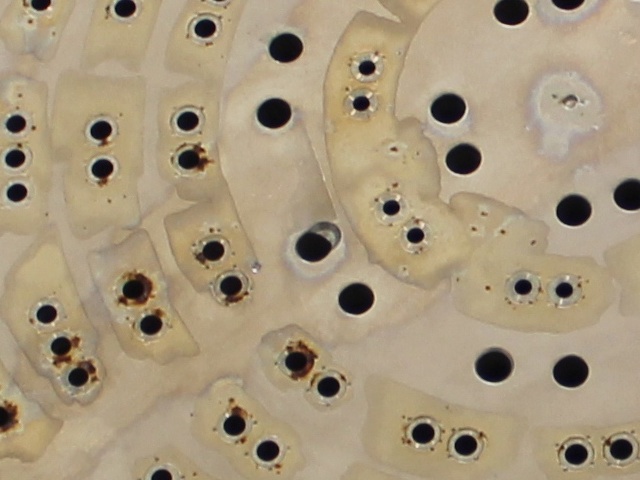 Lighting a 40-year old candle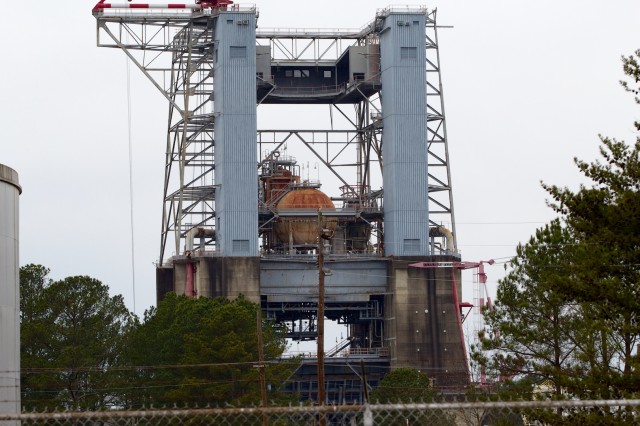 As the preparation for the gas generator tests continued, though, something happened that caused the exercise to shed its academic roots and turn very, very practical.
Rocketdyne returns
After Dynetics and its Pratt & Whitney Rocketdyne subcontractor worked out the agreements and paper, the company needed to run its own set of tests on the F-1 gas generator to gather additional data beyond what Betts, Case, and Coates had gleaned. This necessitated a second series of gas generator test firings in the latter half of February, so Ars headed out to Huntsville to watch.
Watching the test
On the morning of February 20 I found myself perched on a set of metal bleachers under an iron-gray Huntsville sky, with the thermometer reading 33ºF—quite a bit cooler than this Texas boy is used to enduring, especially since the wind wouldn't stop gusting. The payoff was that the observation area sat only a short distance from the gas generator test stand. Through a clearing in a row of evergreens and scrub, separated from us by a dirt path, I saw the test stand itself: a jungle-gym pile of metal and pipes, with personnel scurrying around to make last-minute adjustments.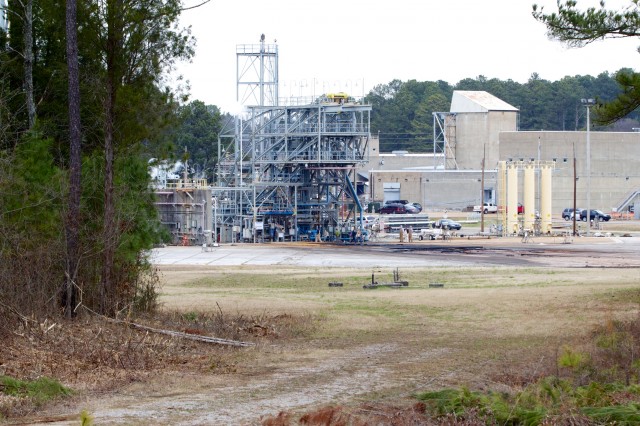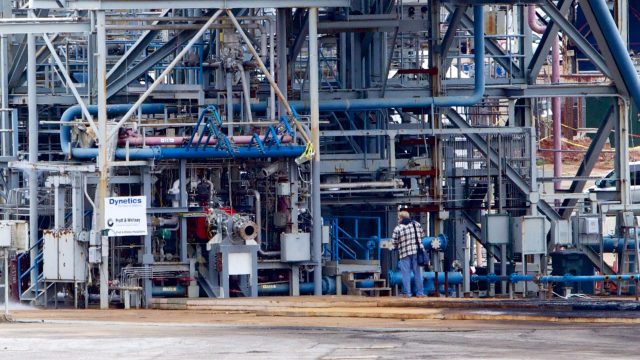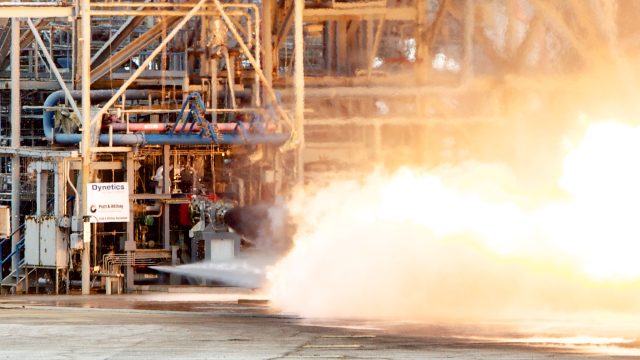 3D printing goes to space
Even though the performance goals of the engine will be close to its predecessor, its manufacturing will be done through radically different methods. The Dynetics folks echoed Betts, Case, and Coates when reflecting on the F-1's construction, making many of the same observations about the jaw-dropping amount of hand-done work in the old design. In the name of affordability and efficiency, modern manufacturing techniques will be brought firmly to bear on the new version.
Each Pyrios booster will feature a pair of F-1B engines, built with techniques that more resemble 3D printing than traditional casting or milling. The main combustion chamber and nozzle in particular will undergo tremendous simplification and consolidating; the parts count for those two assemblies together will be reduced from 5,600 manufactured elements in the original F-1 down to just 40.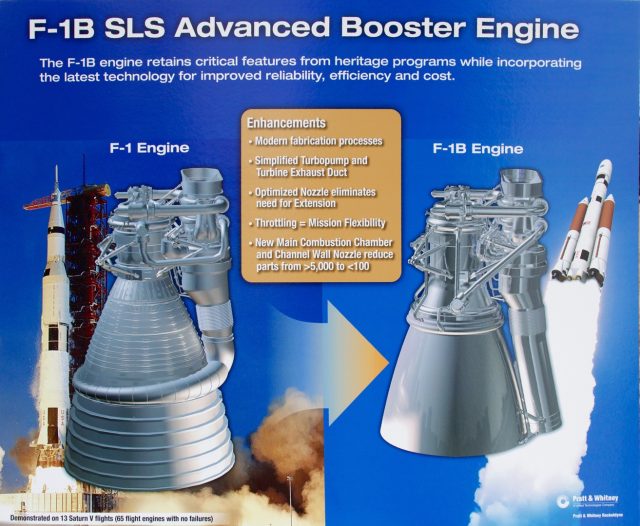 (We've got lots more on Dynetics and their F-1B-powered Pyrios booster in this companion piece.)
Engineers and their engines
"These guys came up with the idea," said Tom Williams, gesturing toward Betts and Case, "that LOX/RP looks like something we need to get smart on again, so how about we take apart one of these?" The two engineers were standing next to the F-6049, along with Coates. "These guys started thinking how to go about it and got the structured light guys into it, but it was just a small group of engineers who got the idea to get their hands dirty."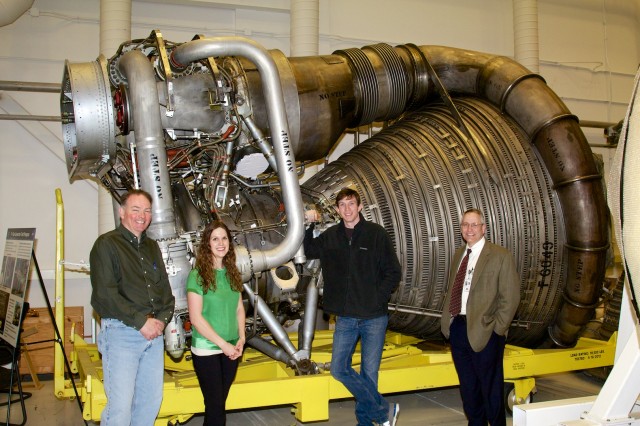 The Advanced Booster competition runs at least another two years, with a final decision expected in 2015 or 2016. Solid fuel remains a major contender—possibly the front-runner—but the Pyrios booster does stand a real chance of thundering past its competitors.
When NASA's SLS rocket flies, she may well be drawn into the sky by Apollo's fiery steed.