Last week at Facebook headquarters, CEO and founder Mark Zuckerberg officially announced Facebook Home, a small suite of applications that users can install on their Android devices to essentially "Facebook-ize" their phones. The event came after
rumors
that the social networking giant was finally pulling the trigger on an official handset. Facebook
didn't
announce a Facebook phone, but it
did
reveal a partnership with HTC to produce a mid-range handset that would come pre-installed with Facebook Home.
SPECS AT A GLANCE: HTC FIRST
SCREEN
1280×720 4.3-inch (341

ppi

) glass display
OS
Android 4.1.2 Jelly Bean
CPU
Dual-core 1.4GHZ Qualcomm Snapdragon 400
RAM
1GB
GPU
Qualcomm Adreno 305
STORAGE
16GB, no expansion slot
NETWORKING
802.11a/b/g/n, Bluetooth 4.0, NFC
PORTS
Micro-USB, headphones
CAMERA
5.0MP rear camera, 1.6MP front camera
SIZE
4.96" × 2.56" × 0.35"
WEIGHT
4.37

oz

BATTERY
2,000

mAh

STARTING PRICE
$99 with a two-year contract.
SENSOR
Ambient light, GPS
OTHER PERKS
Facebook Home
Facebook intended to introduce a new way to make the
smartphone
experience "people-centric." Zuckerberg made the case that most mobile operating systems keep social interaction sequestered to several specific applications, forcing them to exist
independent
of each other and limiting them to particular lanes. But with an app like Facebook Home installed, the social network becomes the core of the mobile operating system. Notifications and status updates from friends or family become a priority rather than a grid of icons screaming for attention with loud, red-numbered badges.
To be clear, the HTC First is a nice looking phone, but it's not a "Facebook phone." At its core, the First is an Android phone with a Facebook overlay. Once Facebook Home is officially released on April 12 in the Google Play store, five supported devices will all have the same Facebook Home functionality. The HTC First is its own product, which will also arrive at
AT&T
on April 12, but we're going to review both the application and the handset as one entity because they're sold as a package. Think of it as getting two reviews for the price of one.
HTC First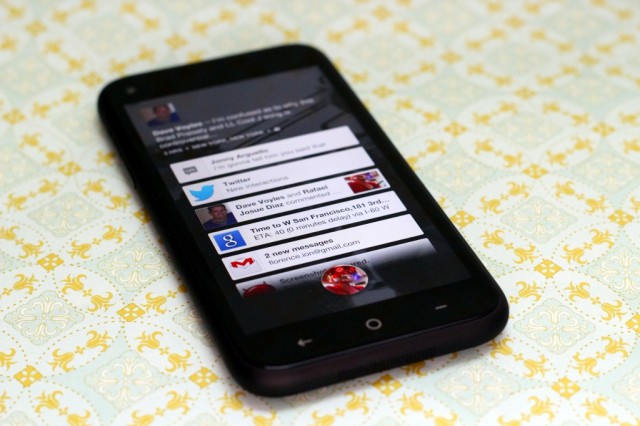 The HTC First is a smaller handset that's not like the devices recently making headlines—phones like the HTC One, LG Optimus G Pro, and Samsung Galaxy S4, for instance. This is meant for a different subset of users. Unlike the aforementioned devices, the HTC First is only $100 with a two-year contract. Although mid-range phones are often quietly announced, this handset is seeing more fanfare because of its out-of-the-box features and native Facebook Home integration.
It's important to note that this isn't even the first "Facebook phone" that HTC has produced. Back in 2011, Facebook and HTC partnered up to
release
the HTC ChaCha and Salsa, two Android handsets with convenient Facebook buttons located right on the chassis. But a phone can't be all about social networking—it should be able to stream video, keep a phone call going, and multitask, all the while feeding into its user's social networking addiction.
Body, insides, and display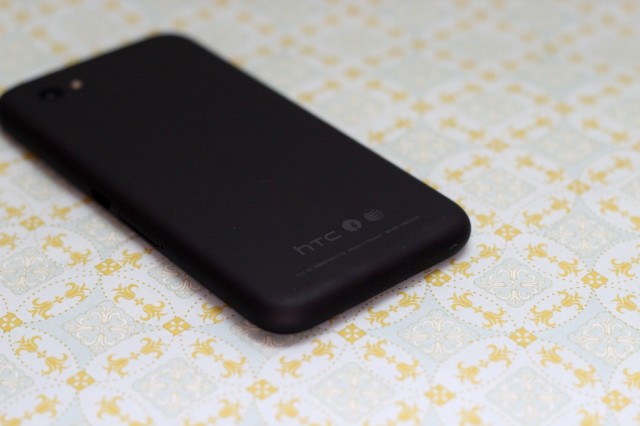 When I first held the phone in my hand, it immediately brought back flashbacks of my HTC Incredible from eons ago. The First is a very stylish, well-built phone, once again proving that HTC has a penchant for design. At 4.96 × 2.56 × 0.35 inches, the First is about the size of the iPhone 5, but as mentioned, it's smaller than some of
the more popular
phones on the market, like the Samsung Galaxy S III. It features a micro-USB charging port on the right-hand side, as well as a pinhole for the micro-SIM slot. The First also has a volume rocker on the left-hand side, a power button and headphone jack on top, and three navigational buttons below the display.


I can see the placement of the micro-USB port becoming a bit of an issue in situations where the phone is charging and it needs to be laid horizontally or placed in a car holster for navigation (this is the same issue I had with my Incredible way back when). It's also awkward trying to type with both hands when the phone is plugged in.
Inside its black matte chassis, the phone is equipped with a dual-core 1.4GHz Qualcomm Snapdragon 400 processor—which was part of the
chipmaker's
CES announcement lineup earlier this year—as well as a 2,000 mAh battery pack, a 5MP rear-facing camera, 1GB of RAM, and 16GB of internal storage. There is no expansion slot, nor is there a way to pop open the back cover and replace the battery. The HTC First is HSPA+ and LTE 850/1900 MHz
compatible
.
The handset is also equipped with a 720p, 4.3-inch display with 341 pixels per inch—that's just a bit bigger than the iPhone 5's display, but it's smaller than Samsung's Galaxy S III. Since I've become so used to bigger displays in the last year, it's been difficult to transition back to a smaller screen during the few days that I used the HTC First. The phone didn't necessarily feel antiquated because of its size, but it certainly felt different, even when I'd switch between it and my everyday phone (the Galaxy S III).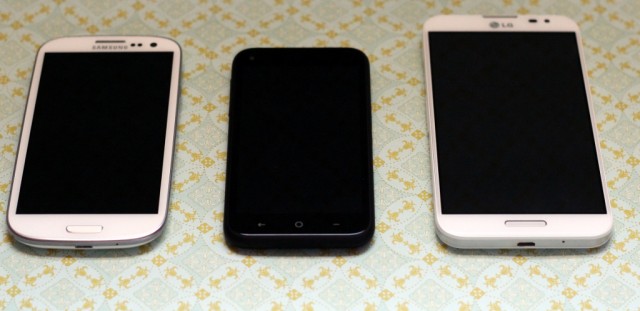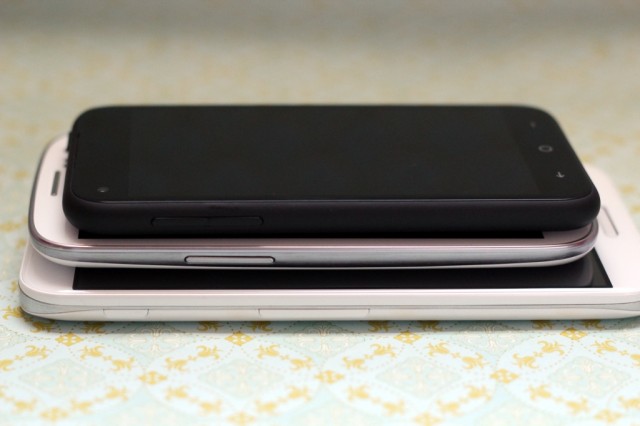 The screen size wasn't much of an issue except when reading e-books and text-heavy
webpages
. Reading a website on the 4.3-inch screen strained my eyes because they've gotten used to consuming content on bigger screens. I use a 4.8-inch display on a daily basis and the small numerical difference is apparent. This experience sometimes translates over to other applications too, especially with the original Facebook application (separate from Home). Fortunately, there is an option in the Settings menu to make the font bigger, which actually helped significantly.
In spite of that, the display still presents a pleasant photo experience for Facebook Home's Cover Feed and other photograph-centric features. The colors seemed true to their nature and the picture was always vibrant, crisp, and easy to see. Only in direct sunlight was the screen was a bit washed out, even with the brightness all the way up.
Performance and battery life
Qualcomm lists its dual-core Snapdragon 400 processor as a mid-tier processor for "high-volume" devices. It runs at 1.4GHz and features an Adreno 305 GPU. Rather than pit this against some of the latest high-end phones that we've had hands-on time with, we went back into the archives to compare it to a few older handsets to see how it stacks up.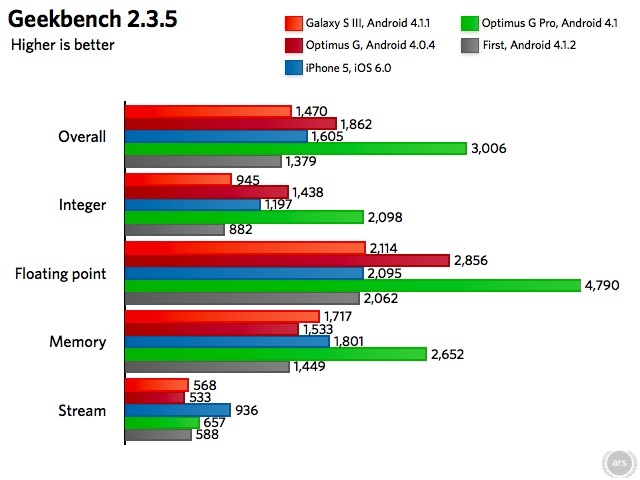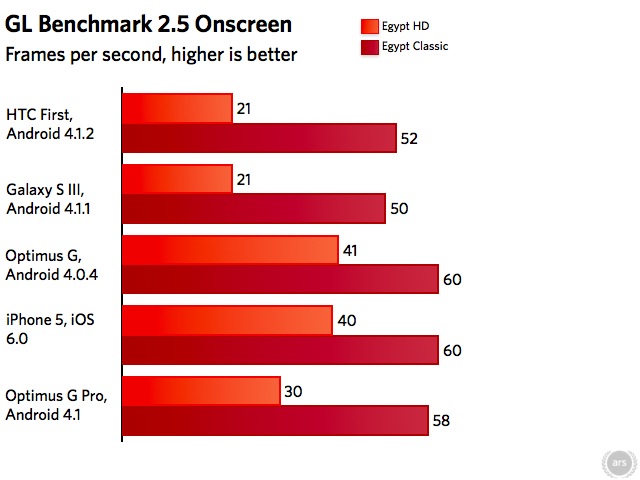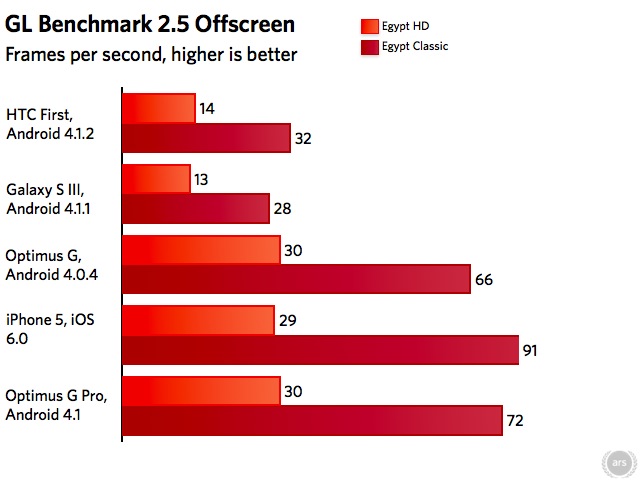 The First's processor can best be compared to the one featured in the US version of the Samsung Galaxy S3, which is a 1.5GHz dual-core Snapdragon S4—the S4 and the Snapdragon 400 use the same CPU architecture,
codenamed
"Krait," so performance should be very similar. We'll include the LG Optimus G, which features a 1.5GHz, quad-core Snapdragon S4 Pro, and the recently
reviewed
Optimus G Pro since its 1.9GHz quad-core Snapdragon 600 processor was released alongside the First's SoC. We even added the iPhone 5 in for good measure.
In performance tests, the First had results similar to the Samsung Galaxy S III. Since there is a 100MHz difference between handsets, it makes sense that the First was lagging a bit behind the S III.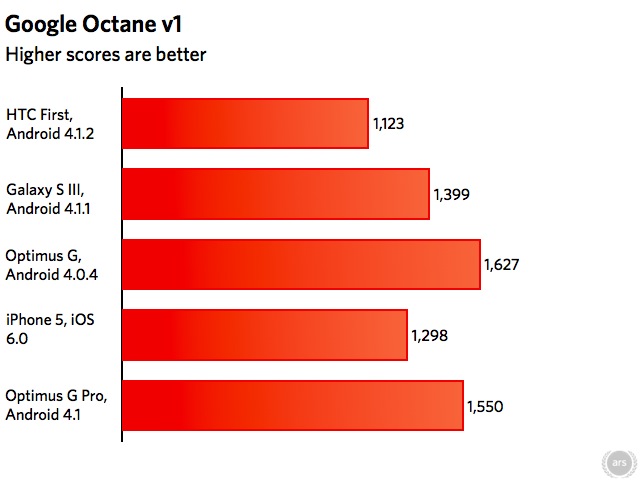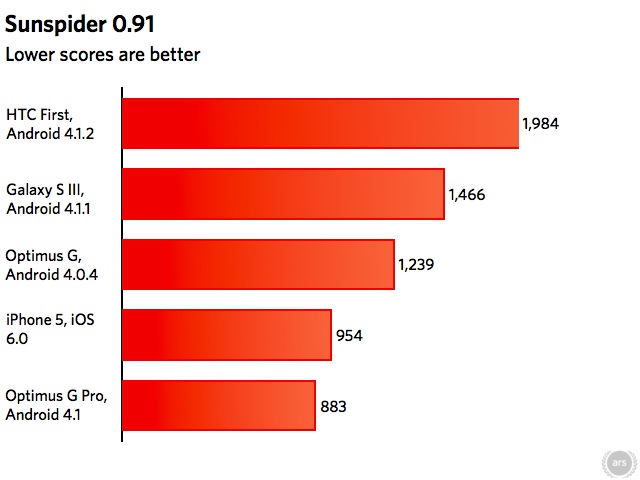 Google Chrome is the stock browser on the HTC First, but it seemed to lag behind many of the other handsets in
benchmark results
. Overall, the handset was fast and speedy. It didn't feel like a mid-range handset, but it runs the risk of showing its age in about a year when a family of new mobile processors is announced.
The 2,000 mAh battery
pack
featured inside the HTC First may seem like small potatoes compared to some of the batteries included in other current phones, but the First doesn't have as many pixels to push or cores to power as competing mobile players. Frankly, that's what makes its battery life so good.
The
phone
ended a day of video watching, several phone calls, messages sent back and forth, and plenty of Instagramming with 37 percent battery life—this was with Bluetooth and
Wi
-Fi always on. The First was set to automatic brightness, however, which helped preserve its battery life. After watching almost an entire episode of BBC's
Sherlock
on Netflix at full brightness and full volume, the phone burned through about 11 percent of its battery life. This wasn't too bad for 50 minutes of viewing. It appears that Home doesn't use up that much battery life either, despite its ingrained status within the Android operating system. The battery energy indicator showed that Facebook was using up only two percent of the phone's battery power.
Camera
Although most manufacturers play up the high megapixel count on their handsets' cameras, the HTC First makes do with only five megapixels. The phone took great pictures where there was proper lighting, but it had some issues in
lower
-light settings, especially with dull or incandescent synthetic lighting.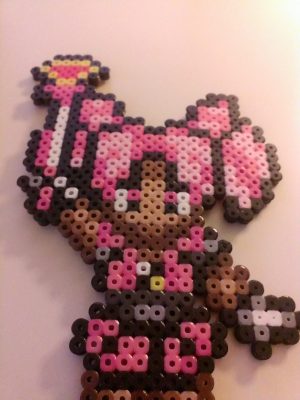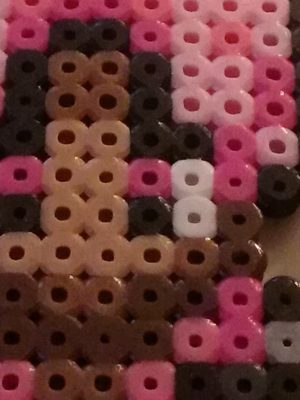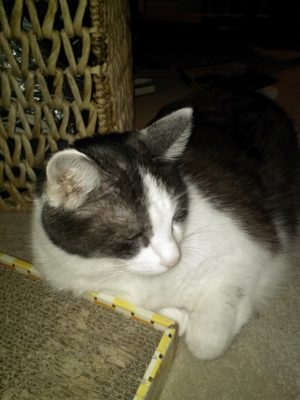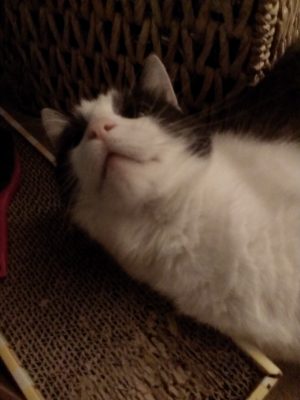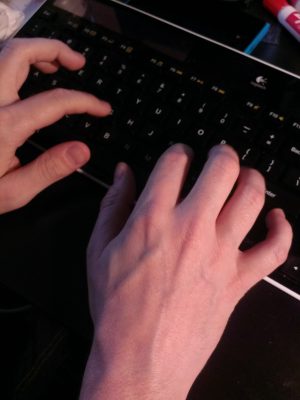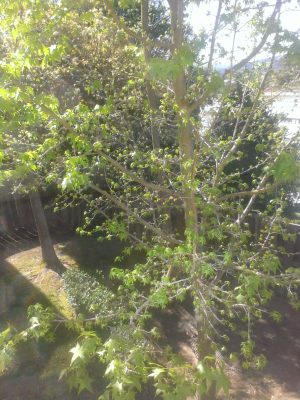 The Camera application
on
the HTC First is the stock app that's featured on Android 4.1.2 Jelly Bean. It features a number of customization options—like the ability to take a panorama, select the white balance for photos, and select different scenes—but there is no HDR mode (though you can "fake" it with various apps in the Google Play store). Video mode features a few extra settings, like Time Lapse, 1080p recording, and effects like the ability to add a "green screen" and change the background. Additionally, the camera application comes with some nifty filter features, a la Instagram. Most of those features
were
a part of Android already, but they're still good to have nonetheless.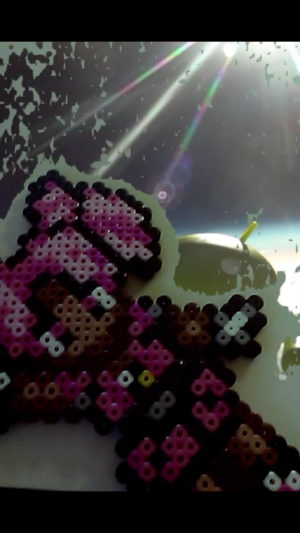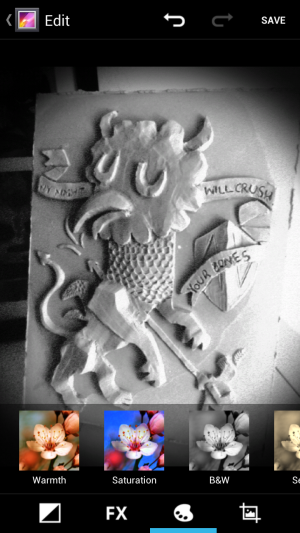 Overall, the photos taken with the handset were more than acceptable for sharing on Facebook, though we wouldn't suggest using the HTC First as your only point-and-shoot camera. Still, at five megapixels, the camera took more capable photos than some of the newer phones we've tested.
Facebook Home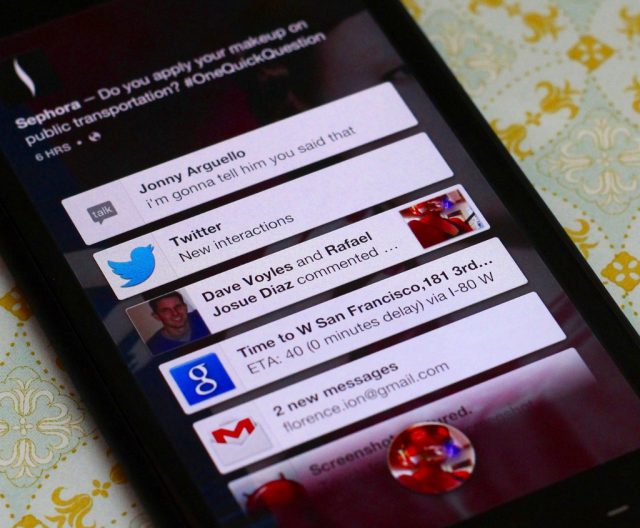 Facebook Home isn't a revamped version of the Android operating system. Rather, it's an application overlay that acts similar to other launchers you can download from the Google Play store, like Nova Launcher. It aims to make any Android phone more "people-centric" by focusing all of the activity from the mobile phone on your Facebook activity rather than the applications installed. It makes Facebook the dominant service on a handset by integrating a Cover Feed into both the lock screen and home screen, allowing users to interact with friends and family via Facebook and SMS from one application screen. If you don't primarily use Facebook as a means of connecting with friends, you probably won't find any use for Facebook Home.
Cover Feed and Notifications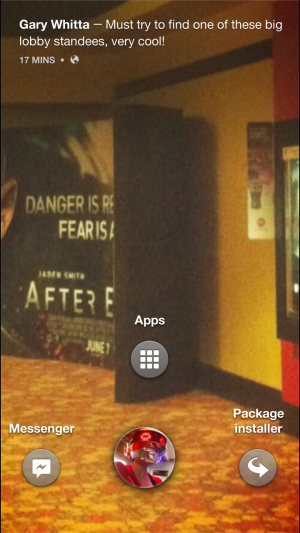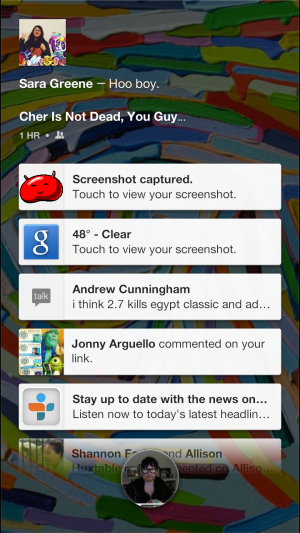 Cover Feed is a live Facebook status screen that cycles in the background of Android's lock and home screens. When you turn on the phone, you'll see Android system notifications appear as white tabs vertically stacked on the screen, with a slideshow of the latest Facebook status updates in your feed in the back. The status updates that cycle in the background aren't always the latest, however. I compared the Cover Feed content to my Facebook feed in my browser, and I wasn't seeing the latest updates.
Status updates do show through on the Cover Feed, with your Facebook friend's cover photo floating in the background. You can actively "like" and comment on status updates from your friends right from the lock screen, or you can hold down on a photo to get a better look at it. You can add your own status update, upload a photo, or check into locations from Facebook Home, though you'll have to hit the Android home button. If you want to read your Facebook feed in the standard fashion, you'll have to use the Facebook app.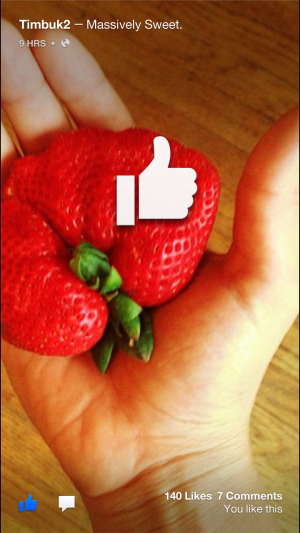 Here, you'll also see what's referred to as the App Launcher, where you can access all of your Android applications. If you swipe to the right from this screen, you'll get to the Android apps list, which lets you drag and add applications back in the App Launcher. Newly installed applications will automatically be added to the App Launcher, but if you want to delete an application, you have to select it from the general applications screen and drag it up to uninstall. Thankfully, this is much more convenient than navigating to the Application Manager from within the Android Settings menu. You can even hit the "More" button from the general applications screen to get back to the stock Jelly Bean home screen.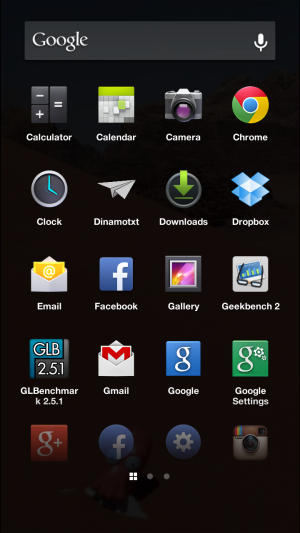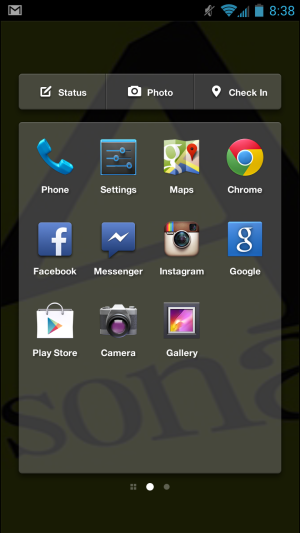 Notifications aren't limited to Facebook's happenings. Whenever you take a screenshot, receive an
e-mail
in Gmail, or get a comment on Instagram, for instance, Facebook Home will let you know. If you plan on using those notifications, you'll probably want to turn off the Android
systems
ones entirely; otherwise you'll receive a double stream of notifications. You can also hide the Android status bar from the Home settings application and bring it back up by swiping down from the top bezel. To get rid of individual notifications, you can simply swipe away to dismiss or double tap to check up on an app that's asking for your attention.
Messaging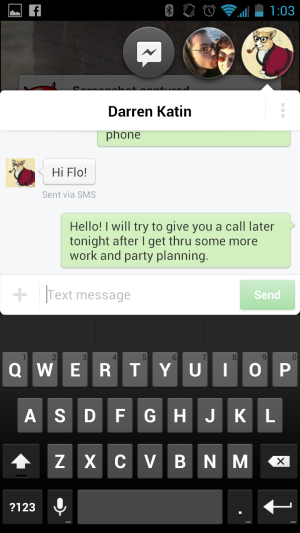 The Messenger application effectively replaces Android's stock app for both Facebook messages and SMS, though you still have access to the operating system's native Messages app if you want to use that instead.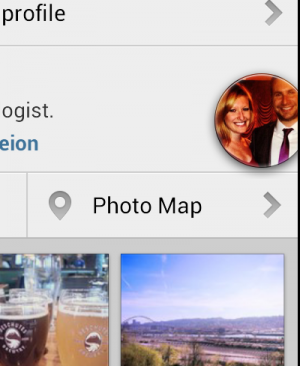 Chat
Heads are the most significant part of Facebook Home's messaging features. Whenever you receive a message, a small bubble will appear in the corner of the screen with your friend's Facebook profile or phone book photo. As new messages make their way to you, new chat bubbles will appear on top of one another in that contained corner.
The Chat Heads feature can best be described as the roommate who quietly knocks on the door and then cracks it open to see if you're busy.
Chat
Heads try hard not to distract you so that you can continue to multitask, but they
want
to subtly alert you that someone has sent you a message. This feature helps promote the idea that Facebook Home puts "people first" rather than individual applications because you don't technically have to navigate into an app to reply to messages via Facebook or SMS. Android's
roll-over
notifications in the top status bar have always been nice and subtle, though I can understand what Facebook is trying to achieve here. Rather than having to navigate to two different applications to reply to friends and family, you only have to use one.
Settings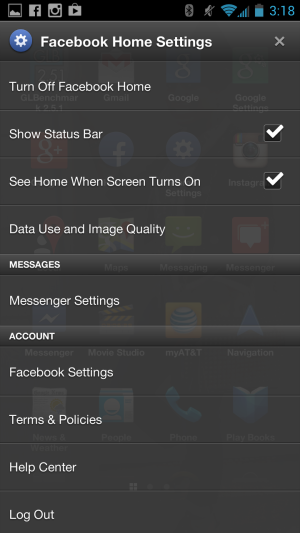 Facebook Home features its own settings menu, independent of Android's, titled Home Settings, which is accessible from the app launcher. From here, you can choose the image quality of the photos that cycle through Cover Feed, select and customize the settings for Notifications for Messenger (like whether you want it as your default SMS application), and choose whether Cover Feed should be the default lock screen. If you choose not to have the Cover Feed displayed, you'll see Jelly Bean's stock lock screen instead.
How much is too much Facebook for a phone?
If you're planning on checking out Facebook Home once it's available on April 12, it's important to note that you'll need to have the official Facebook app installed for it to work. You can also get
Chat Heads functionality
by separately installing the Facebook Messenger application, though you won't have access to Facebook Home's Cover Feed. For its part, Facebook has said that it will update the Home application monthly.
Facebook said during a question and answer session, rather matter-of-factly, that it will begin serving advertisements on Facebook Home after the launch. We're not sure when this will happen or where the advertisements will show up, so we can't comment on their intrusiveness. In the meantime, Facebook has been addressing some of the privacy concerns surrounding the new Facebook Home service. The social networking giant is reassuring users that everything is customizable, just like the Facebook Android application. Facebook says that Home "collects information when you interact with the service" and that it "doesn't use location in any way that's different from the Facebook app you already have on your Android phone." Data, including location information, will only be collected when you open the app, but Facebook notes that location services can be turned off.
Facebook is trying to bring more "choice" to its users with Facebook Home. Whether it will be beneficial to you rests entirely on whether or not you're actively linked into the social network. It's odd that Facebook doesn't include Instagram as part of the Cover Feed, since its photos would make great background screensavers. What we've seen is an application focused solely on making the Facebook experience the hub for all of your social correspondence, but that can be extremely limiting for those who use a number of other social networks. If this sounds like something that you would never use, then you're not the target demographic for this handset or this application.
As for the HTC First, it's all a part of what appears to be Facebook's strategy to make
itself
a bigger player in the mobile game. Facebook isn't creating a new mobile operating system to go to war against players like
iOS
, Android, Windows Mobile, and BlackBerry. Instead, it
has built
on top of a platform that already works and has partnered up with a manufacturer that it already has a relationship with. It's also a boon for HTC, a company that is having a bit of an identity crisis and diminishing global market share. An entry-level handset with this kind of integrated social networking for $99 could be attractive for consumers who may not have considered a
smartphone
before. Facebook Director of Product Adam Mosseri mentioned to Ars that the company has intentions to work with other OEMs in the future.
Android is one of the most widely used operating systems, so it makes sense that Facebook would target this demographic. With a mid-range handset that's affordable and allows users to remove the Facebook Home application, it offers the aura of choice. Ultimately, the purchase question still hinges on whether you really want a social network to be the driving force on a device that you use daily.
The good
Speedy phone despite its mid-range processor

First is stylish, feels great in the palm of your hand
Facebook Home can be removed to reveal a stock version of Android 4.1.2
Facebook will continue to update, adding new features
Camera is good enough, even with only five megapixels
The bad
You won't get updates on the stock version of Android as is standard with the Nexus line

Awkward placement of micro-USB charging port on the side of the phone
Screen is a smaller size than some of the latest phones to hit the market
The ugly
If you stick with Facebook Home, prepare to see ads on your phone