Overall, the Opteron's architecture was similar to K7's but with two key differences. The first was that the CPU incorporated the system's memory controller into the chip itself, which greatly reduced memory latency (albeit at the cost of some flexibility; new CPUs had to be introduced to take advantage of things like dual-channel memory and faster memory types like DDR2). This showed that AMD saw the benefits of incorporating more capability into the CPU itself, an instinct that would inform the later purchase of GPU maker ATI Technologies.
The K8's biggest benefit for servers, though, was its 64-bit extensions. The extensions enabled AMD's chips to run 64-bit operating systems that could address more than 4GB of memory at a time, but they didn't sacrifice compatibility or speed when running then-standard 32-bit operating systems and applications. These extensions would go on to become the industry standard, beating out Intel's alternate 64-bit Itanium architecture—Intel even licensed the AMD64 extensions for its own compatible x86-64 implementation. (Intel's initial approach could only run x86 code with an immense performance penalty.)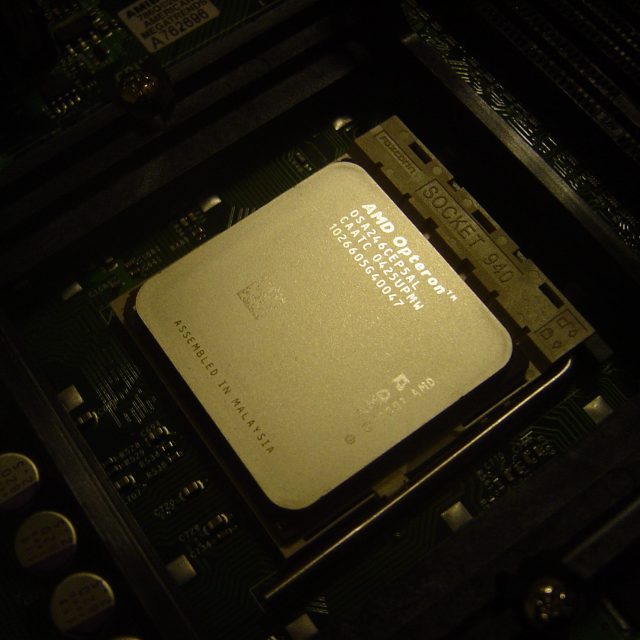 Despite technical successes, AMD's financial situation had become precarious. Processor unit sales were falling, and margins on most chips dropped quickly after 2000. AMD also had problems with producing too much inventory; in the second half of 2002, AMD actually had "to limit shipments and to accept receipt of product returns from certain customers," it announced, because the chips it made weren't selling fast enough. The company had a net loss of $61 million in 2001, $1.3 billion in 2002, and $274 million in 2003.
The money for these huge investments all relied on AMD's ability to sell chips, and AMD's ability to sell chips was made easier by its competitive edge over Intel. Unluckily for AMD, Intel didn't take this challenge lying down.
Intel resurgent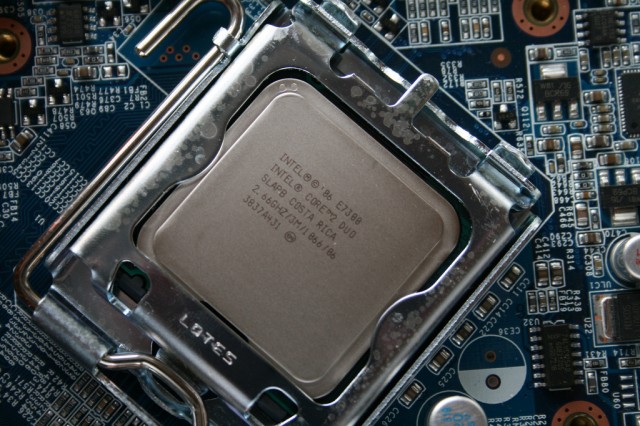 AMD's high point was, in most respects, one of Intel's lowest. "Clearly [AMD] had a very competitive product in Opteron in particular," Intel spokesperson Bill Calder told Ars, "and there was a lot of consternation inside of Intel and a lot of work going around trying to correct the problem and trying to counter not only in the market but in the press. At the time, there was quite a bit of focus on the competitive threat from AMD, but it was also very much a rallying call inside of Intel."
The CPU was such a success for Intel in laptops that, when the NetBurst architecture's time was up, the company set about to adapting the Pentium M's architecture for desktops and servers as well. It ramped up Pentium M's clock speed, added 64-bit extensions (licensed, of course, from AMD), and added a second CPU core, which provided the basic ingredients for the Core 2 Duo (the original Core Duo and Core Solo were sold only in laptops and lacked 64-bit extensions—Core 2 Duo was this architecture's first foray into non-mobile form factors.)
Neither Core nor any subsequent Intel architecture has left AMD behind all by itself, but Core 2 kicked off a relentless string of well-executed Intel CPUs. While AMD's CPUs continued to improve, they were over time shut out of the high-end market once more and forced to compete again mainly on price, mirroring the company's early struggles. It also didn't help that, just as Intel was churning out its best products in years, AMD was trying to swallow another company whole.
The ATI acquisition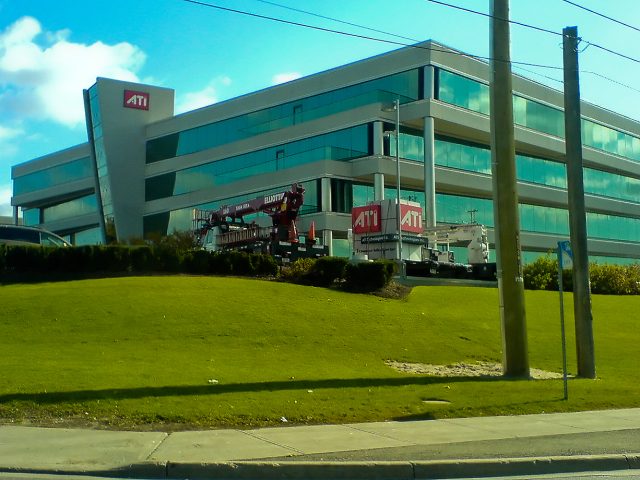 A focus on a few product lines helped AMD succeed for several years, but it didn't last. While no single event brought AMD down from the peaks of the mid-2000s, the loss of this focus played no small part in its fall. Case in point: the company's 2006 purchase of Canadian graphics company ATI Technologies. The logic behind the ATI purchase was fundamentally sound—AMD saw a future where more than just the memory controller was integrated into the CPU, but it didn't have the graphics and chipset experience to make that future happen easily.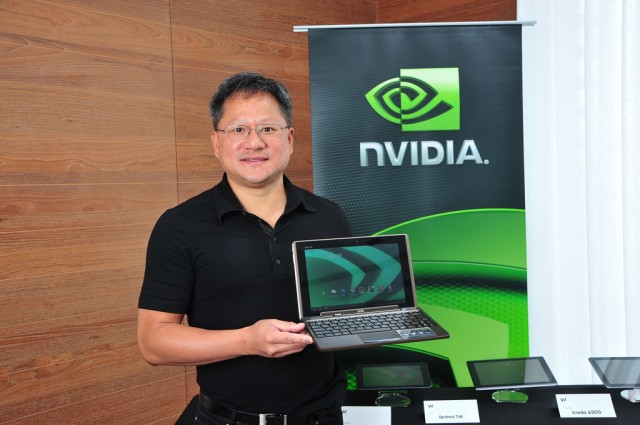 Though a good idea, the two companies were never integrated well. "The vision to bring the two companies together, or at least to get a video component business, a graphics component business for AMD made sense," former AMD marketing manager Ian McNaughton told Ars. "How they went about executing that plan failed."
"This was an acquisition treated like a merger," McNaughton continued. "So the AMD people were AMD people; the ATI people were ATI people. They continued to live in separate buildings, they continued to report into separate structures, they continued to wear their logos. It took a long time to change the mentality, and I don't think it ever really did change."
Differences in culture divided loyalties within the combined company, to the point that another former AMD staffer told us that some employees saw themselves as members of either a "green" AMD (the CPU side) or a "red" AMD (the GPU side). Those employees often prioritized the needs of their division's individual products rather than the combined products that ATI had been purchased to help build. This led to delays. Reportedly, three versions of the combined "Fusion" chips were produced before one was deemed market-ready, by which point the chips were much later than initially promised.
The internal issues also distracted the company from the very real engineering issues affecting products already in AMD's pipeline at the time of the ATI purchase—2007's "Barcelona" Opteron processor arrived late and didn't meet performance expectations due in part to a nasty bug (the short-term fix for which sapped performance by an additional ten percent or so). This situation was substantially duplicated in 2011 when the "Bulldozer" architecture also arrived late and with less performance than promised. In both cases, AMD stumbled when it badly needed a win, and Intel's solid execution during this period threw AMD's problems into even harsher relief.
"The next resulting four years of lack of innovation [after the ATI purchase] was probably one of those hangovers of that failed acquisition," McNaughton told Ars, "because they didn't come down and lay down the law and say 'this is our roadmap and our vision and let's start executing to the roadmap,' like you have to do when you have 6,000 engineers on staff."
Fight fair
In the mid-2000s, AMD came to believe that Intel was unfairly out to sabotage it in the marketplace once more, using money and clout to beat back AMD's technological superiority. Ruiz describes the company's view in his book:
AMD's former CFO, Fran Barton, told Ars that Intel was "just not going to let AMD in. There's a thing—Microsoft is reputed to have done it, Intel is reputed to have done it, when they get to near-monopoly, certain executives take advantage knowing that it's hard to prove, and when you do get caught it will be five or eight years down the road." But Barton admitted that Intel also had "cost advantages over us from scale."
"AMD is never going to win going head-to-head with Intel," Stacy Rasgon, a financial analyst at Sanford Bernstein, told Ars. "Intel can sleep for a while, [but it has] a tremendous amount of resources—AMD kicked the sleeping giant."
"They've put themselves in this corner of the marketplace, and it's an odd one, they admit it," Craig Stice, an analyst with IHS Global Insight, told Ars. "But at the same time, you never get the sense that they are making strides for attempting to get themselves out of that corner. You never get the intention that they want to be bigger than Intel. They seem happy in their little corner to an extent and that piece of the market has been dwindling from them."
Going global with GlobalFoundries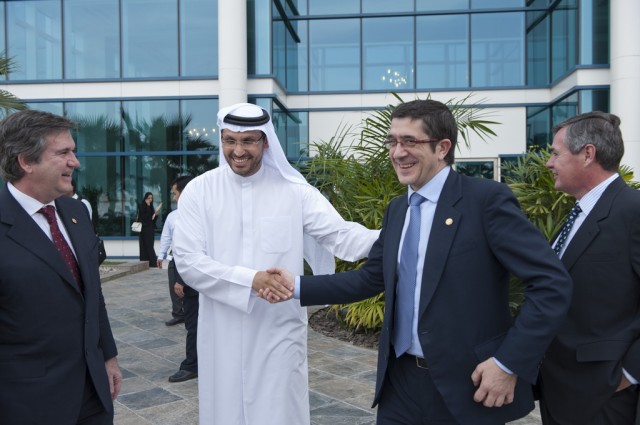 When the deal closed, Intel pounced on this opportunity to gain some leverage in the AMD suit, arguing that the cross-licensing agreement for the x86 instruction set—without which AMD couldn't make or sell x86 chips—applied only to a combined AMD that controlled both the design and the manufacture of those chips. An AMD that contracted manufacturing out to a third-party was not authorized to manufacture those processors, Intel said.
In a bad way
Former CFO Barton is not convinced that the company has much a future. "[Even without the lawsuit against Intel,] it wouldn't have mattered," he said. "[Sanders] took his shot, and the game's been played."
"They had big problems ramping the yields," Rasgon said. "I remember if I go back to July 2010 I was the only guy on the Street that was bullish [on AMD]. I was on the [quarterly investors'] call and they had a lot of issues. They said we fixed the problems and Llano is now going to ramp faster and the stock was up 20 percent the next day. Then they pre-announced [the company's next earnings], saying they're not going to make it. This was October 2010, and I downgraded the stock not because I didn't believe the structural story anymore. They had no clue if it was a three-week or a six-month problem."
Fight for the future
AMD also retains a sizable portion of both the PC and server markets, though these have been reduced since the company's heyday, and the company has rolled out relatively consistent improvements to core products like Trinity and Steamroller. The graphics division continues to put out gaming GPUs that perform competitively with those from Nvidia. Indeed, the graphics division produced one of the company's rare bits of recent good news: AMD will supply both the GPU and CPU for Sony's PlayStation 4 and is widely expected to do the same for Microsoft's next Xbox. AMD also supplies the GPU for the outgoing Wii and the struggling Wii U. Game consoles are a relative drop in the bucket compared even to the dwindling PC market (Microsoft has sold a little over 70 million Xbox 360s since 2005, and the PC market can generally meet or beat that number in a single quarter), but having its silicon in all three of the major contenders is a chunk of change and a good bit of publicity for AMD.
Time may be short, but AMD is used to playing the underdog.